Since my first luncheon at El Torreón with Mariano García, I have returned numerous times, perhaps nearly 20, over a period of more than two decades. Tordesillas, located 183 kilometers (less than two hours northwest of Madrid on autoroute A6, the main route to Galicia) at the northern edge of the Rueda wine district, just west of Ribera del Duero, east of Toro and south of Cigales, has become one of my main wine road warrior stops. I always stay at my home-away-from-home, Hotel Doña Carmen*, a modest roadside hotel, which is situated just south of the multi-arched Medieval bridge over the Duero River. I love the Hotel Doña Carmen, in which I seldom spend more than 10 hours at a time, enough to answer some e-mails, get into bed, get up, get ready to go, have a pan tostado con with mantequilla y mermelada and a cafe con leche. But, my familiarity with the place (and its idiocyncracies), plus the idea that it is one of the few hotels in Spain with mosquiteros (mosquito screens, vital next to the river).
Click on title to see entire post.
Hotel Doña Carmen looks out on a great view the river, the bridge and of the historic old town of Tordesillas, which is famous as the frequent home to the court of the nomadic kings and queens of Castilla, the place where the famous Tratado de Tordesillas was crafted in 1494 (which, unbeknownst at the time to Spain, gave Portugal Brazil) and is notorious as the town where the rightful Queen of Castilla, Juana I (known as Juana la Loca) was held prisoner for more than 50 years (she died in captivity here).
The windows at Hotel Doña Carmen are equipped with a rarity in Spain, mosquiteros, screens on the windows to keep out mosquitoes and other insects, which means I can open the window at night and sleep like a baby to the sounds of the Duero river flowing over a gentle spillway (and muffling any night sounds from the ghost of Juana) on its way to Portugal to become the great Port river, the Douro and on to its encuentro with the Atlantic at Oporto. The Hotel Doña Carmen has comfortable beds, showers that work and do not require an engineering degree to operate, wi-fi that works and comfortable beds, with blankets and sheets, not the damned nordicos, duvets, under which is impossible for me to sleep. Breakfast, in the hotel bar-restaurant is usually café con leche with a slice of tortilla española and-or a croissant or pan tostado con mantequilla y mermelada. The cost: Usually about 35 Euros a night.
*In June, 2021 on my Road Warrior pre-post COVID 3,500-kilometer trip around Spain to accumulate more adventures for Sunset in a Glass: Adventures of a Food and Wine Road Warrior in Spain, I had an experience unpleasant enough to cause me to contemplate scratching Hotel Doña Carmen from my favored Road Warrior Hotels in Spain. Because I was traveling with my usual luggage (enough clothing for three weeks in Spain, including a dress jacket for Madrid Fusión), my rolling computer case (laptop, external hard drives and extra camera lenses) and my camera bag, I had requested a room on la planta baja of this two-story, no-elevator hotel. Instead, my friend and driver Tom Perry and I were given second-story rooms and we had to drag all our luggage up a double flight of stairs. I was helped with my big bag by the hotel manager, but when I arrived in the room, I found the internet was not working on the second floor, something I had called to the hotel manager´s attention at least a decade before this.
But, the last straw was the fact that there was no one from management or staff in the hotel after midnight. We returned for dinner at the de Lozar family´s restaurant, Alquira, after midnight and I had forgotten my plastic-card room key, which I left in my room. Tom Perry and I entered through the front door with his key, but I was still locked out of my room. Fortunately, I remembered that I had seen a telephone number to call on a printed sheet of paper encased in a plastic sleeve. That number was on the check-in counter, but was now face down. I flipped the page over and called the number. I man´s voice grumbled, "Cinco minutos."
In about ten minutes, a husky man rode up on a motorcycle and without a word, opened the front door, the handed me the plastic key, which was supposed to open my room on the second floor. He left as I went up the stairs to find that the key would not open my door. This after covering 500 kilometers on the road that day and spending three hours at dinner. I called the number again and the man returned, huffily charging into the hotel and up the stairs to my room, where he opened the door with a plastic key, gave it to me and hastily left, roaring off on his motorcycle.
I thought, "Who needs this shit?¨ Especially after 20 years of staying once or twice a year in this joint. But, the next time, with a firm understanding that I will not be given a second-floor room, that the internet works and that I will be given two keys and not run the risk of being locked out, I shall return. After all a good Road Warrior hotel is not that easy to find.
Constructive comments are welcome and encouraged.
If you enjoy these blog posts, please consider a contribution to help me continue the work of gathering all this great information and these photographs for Gerry Dawes's Insider's Guide to Spanish Food, Wine, Culture and Travel. Contributions of $5 and up will be greatly appreciated. Contributions of $100 or more will be acknowledged on the blog. Please click on

this secure link to Paypal

to make your contribution.
Text and photographs copyright by Gerry Dawes©2021. Using photographs without crediting Gerry Dawes©2021 on Facebook. Publication without my written permission is not authorized.
Shall deeds of Caesar or Napoleon ring
More true than Don Quixote's vapouring?
Hath winged Pegasus more nobly trod
Than Rocinante stumbling up to God?
Poem by Archer M. Huntington inscribed under the Don Quixote on his horse Rocinante bas-relief sculpture by his wife, Anna Vaughn Hyatt Huntington,
in the courtyard of the Hispanic Society of America's incredible museum at 613 W. 155th Street, New York City.
_______________________________________________________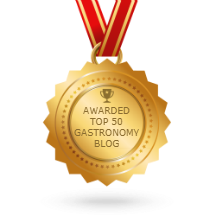 In 2019, again ranked in the Top 50 Gastronomy Blogs and Websites for Gastronomists & Gastronomes in 2019 by Feedspot. (Last Updated Oct 23, 2019)
"
The Best Gastronomy blogs selected from thousands of Food blogs, Culture blogs and Food Science blogs in our index using search and social metrics. We've carefully selected these websites because they are actively working to educate, inspire, and empower their readers with frequent updates and high-quality information."

36. Gerry Dawes's Spain: An Insider's Guide to Spanish Food, Wine, Culture and Travel
About Gerry Dawes
My good friend Gerry Dawes, the unbridled Spanish food and wine enthusiast cum expert whose writing, photography, and countless crisscrossings of the peninsula have done the most to introduce Americans—and especially American food professionals—to my country's culinary life." -- Chef-restaurateur-humanitarian José Andrés, Nobel Peace Prize Nominee and Oscar Presenter 2019
Gerry Dawes is the Producer and Program Host of Gerry Dawes & Friends, a weekly radio progam on
Pawling Public Radio
in Pawling, New York (streaming live and archived at www.pawlingpublicradio.org and at www.beatofthevalley.com.)
Dawes was awarded Spain's prestigious Premio Nacional de Gastronomía (National Gastronomy Award) in 2003. He writes and speaks frequently on Spanish wine and gastronomy and leads gastronomy, wine and cultural tours to Spain. He was a finalist for the 2001 James Beard Foundation's Journalism Award for Best Magazine Writing on Wine, won The Cava Institute's First Prize for Journalism for his article on cava in 2004, was awarded the CineGourLand "Cinéfilos y Gourmets" (Cinephiles & Gourmets) prize in 2009 in Getxo (Vizcaya) and received the 2009 Association of Food Journalists Second Prize for Best Food Feature in a Magazine for his Food Arts article, a retrospective piece about Catalan star chef, Ferran Adrià.
". . .That we were the first to introduce American readers to Ferran Adrià in 1997 and have ever since continued to bring you a blow-by-blow narrative of Spain's riveting ferment is chiefly due to our Spanish correspondent, Gerry "Mr. Spain" Dawes, the messianic wine and food journalist raised in Southern Illinois and possessor of a self-accumulated doctorate in the Spanish table. Gerry once again brings us up to the very minute. . ." - - Michael & Ariane Batterberry, Editor-in-Chief/Publisher and Founding Editor/Publisher, Food Arts, October 2009.
Pilot for a reality television series on wine, gastronomy, culture and travel in Spain.