* * * * *

Excerpt from Homage to Iberia: More Spanish Travels and Reflections
A work in progress by Gerry Dawes
©2020
One of Spain's best fish dishes is urta a la roteña, a delicious red sea bream rockfish baked whole with a sauce made with tomatoes, red and green bell peppers, garlic, Spanish extra virgen olive oil, a bay leaf, dry fino or manzanilla sherry such as Maruja Manzanilla de Sanl
ú
car de Barrameda, Restaurante Mirador de Doñana, Sanl
ú
car de Barrameda.
Photo by Gerry Dawes©2018.
Urta a la roteña
with Maruja Manzanilla de Sanl
ú
car de Barrameda, Restaurante Mirador de Doñana, Sanl
ú
car de Barrameda.
Photo by Gerry Dawes©2018.
While I was in Rota in 1968 and 1969, when I did go out to eat it was in the bars frequented by my fellow Navymen. I stuck to hamburgers, pizza and pastas with red sauce, with the occasional foray after a night in the "American" bars into old town Rota to a bakery with no sign that, if you knew it where to find the place, would sell you a sliced sandwich made with a hot roll fresh from the oven and a generous slab of cooked ham and Manchego-type cheese for the equivalent of about a half dollar. This bakery would also have a long-term impact on me, because it was the place I took the lovely backpacker I had just met, Diana Valenti from Michigan, on our first date after her shift at the Bar Toyko. Over one of those ham-and-cheese sandwiches we began a relationship that would result in marriage and last for 28 years.
Well before meeting Diana, I would begin my long affair with the food of Spain.

The village of Rota is known for one of Spain's best fish dishes urta a la roteña, a delicious red sea bream rockfish baked whole with a sauce made with tomatoes, red and green bell peppers, garlic, Spanish extra virgen olive oil, a bay leaf, dry fino or manzanilla sherry on a bed of sliced potatoes in a cazuela (earthenware casserole dish).
Urta a la roteña, red sea bream rockfish baked in a cazuela (earthenware casserole dish) at a restaurant in Cádiz. Photo by Gerry Dawes©2018.
But, after getting a whiff of the port in Rota, which during my Navy hitch there smelled like raw sewage had been dumped into it--but has since remedied that problem--I never ate fish or shellfish there. Subsquently, though I never ate this exceptional dish in Rota, I had read of urta a la roteña and had it several times in Sanlúcar de Barrameda, in el Puerto de Santa Maria and across the bay in Cádiz. In fact, if I see it on menu in one of the coastal towns in Cádiz province I often order urta a la roteña, still after five decades of enjoying the best food Spain has to offer is high on my list of the best fish dishes I have ever eaten.
Urtas de Conil in the Mercado Muncipal de
C

á

diz.

Conil is a seaside town 50 kilometers (30 miles) from
C
á
diz.
Photo by Gerry Dawes©2018.
Shall deeds of Caesar or Napoleon ring
More true than Don Quixote's vapouring?
Hath winged Pegasus more nobly trod
Than Rocinante stumbling up to God?
Poem by Archer M. Huntington inscribed under the Don Quixote on his horse Rocinante bas-relief sculpture by his wife, Anna Vaughn Hyatt Huntington,
in the courtyard of the Hispanic Society of America's incredible museum at 613 W. 155th Street, New York City.
________________________________________________________________________________________________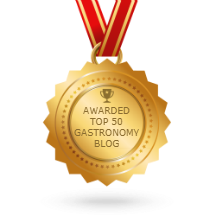 About Gerry Dawes
My good friend Gerry Dawes, the unbridled Spanish food and wine enthusiast cum expert whose writing, photography, and countless crisscrossings of the peninsula have done the most to introduce Americans—and especially American food professionals—to my country's culinary life." -- Chef-restaurateur-humanitarian José Andrés, Nobel Peace Prize Nominee and Oscar Presenter 2019
Gerry Dawes is the Producer and Program Host of Gerry Dawes & Friends, a weekly radio progam on
Pawling Public Radio
in Pawling, New York (streaming live and archived at www.pawlingpublicradio.org and at www.beatofthevalley.com.)
Dawes was awarded Spain's prestigious Premio Nacional de Gastronomía (National Gastronomy Award) in 2003. He writes and speaks frequently on Spanish wine and gastronomy and leads gastronomy, wine and cultural tours to Spain. He was a finalist for the 2001 James Beard Foundation's Journalism Award for Best Magazine Writing on Wine, won The Cava Institute's First Prize for Journalism for his article on cava in 2004, was awarded the CineGourLand "Cinéfilos y Gourmets" (Cinephiles & Gourmets) prize in 2009 in Getxo (Vizcaya) and received the 2009 Association of Food Journalists Second Prize for Best Food Feature in a Magazine for his Food Arts article, a retrospective piece about Catalan star chef, Ferran Adrià.
". . .That we were the first to introduce American readers to Ferran Adrià in 1997 and have ever since continued to bring you a blow-by-blow narrative of Spain's riveting ferment is chiefly due to our Spanish correspondent, Gerry "Mr. Spain" Dawes, the messianic wine and food journalist raised in Southern Illinois and possessor of a self-accumulated doctorate in the Spanish table. Gerry once again brings us up to the very minute. . ." - - Michael & Ariane Batterberry, Editor-in-Chief/Publisher and Founding Editor/Publisher, Food Arts, October 2009.
Pilot for a reality television series on wine, gastronomy, culture and travel in Spain.