* * * * *
The Rite of the Queimada:

La Quiemada is as old as Galician civilization. Mentions of it can be found in Celtic (on stone tablets, one presumes), Roman, Visigothic and Arabic literature.

With Paco Dovalo of Cabaleiro Do Val, Emilio Cores (La Cámara de Comercio de Vilagarcía de Arousa) & Members of the Asociación de Bodegueros Artesanos of Meaño.

The Incantation:

"Demons, goblins and devils, spirits of the misty valleys.
Farts from the asses of doom, Shrieks of cats in heat. . ."
And whole long list of other curses to banished follows. . .then. . .
"When this drink goes down our gullets, we will be free of evil in our souls
and of spells cast by the evil spirits and witches."
In Galicia, the Gallegos still claim to believe in meigas (witches), evil spirits and the like.
To protect guests they have something called La Queimada, a custom believed to have originated with the ancient Celtic race to whom Galicia was their sacred home.
Here at Paco Dovalo's bodega, Cabaliero do Val, in Meaño, a member of the region's Asociación Association of Artisan Winemakers hollows out a giant calabaza squash or a pumpkin if they have one, then fills it with aguardiente or as the Gallegos call it, oruxo (literally, "burning water or firewater"; Galician grappa or moonshine).
He ritualistically sets the booze alight then tosses in coffee beans and orange peel - - then the juice of oranges and lemons - - and dumps in a whole mess of sugar. . . then a few cups of coffee and more aguardiente!
This concoction is brewed for as much as half an hour. It flames a magical incandescent blue, cooking the coffee beans, coffee, orange peel, lemon, sugar and even steams the squash.
When he thinks the Quiemada is ready, our Gallego friend, Emilio Cores, scoops out a cup of the flaming punch . . . along with pieces of the squash.
The result is a thick liquor that is less alcoholic than the original brandy but it can still be a head banger.
We made a lot of that quiemada vanish and, in the process, banished a few evil spirits of our own. . . .at least until the next morning.
Specialized Tours of Spain & Tour Advice
For custom-designed tours of Spain, organized
and lead by Gerry Dawes,
and custom-planned Spanish wine, food, cultural and photographic itineraries,

send inquiries to gerrydawes@aol.com.
I have planned and led tours for such culinary stars as Chefs Thomas Keller, Mark Miller, Mark Kiffin, Michael Lomonaco and Michael Chiarello and such personalities as baseball great Keith Hernandez and led on shorter excursions and have given detailed travel advice to many other well-known chefs and personalities such as Drew Nieporent, Norman Van Aken, Karen Page and Andrew Dornenberg, and James Campbell Caruso.
"The American writer and town crier for all good Spanish things Gerry Dawes . . . the American connoisseur of all things Spanish . . ." Michael Paterniti, The Telling Room: A Tale of Love, Betrayal, Revenge and The World's Greatest Piece of Cheese
* * * * *
"Gerry Dawes, I can't thank you enough for opening up Spain to me." -- Michael Chiarello on Twitter.

"Chiarello embarked on a crash course by traveling to Spain for 10 days in 2011 with Food Arts
contributing authority Gerry Dawes, a noted expert on Spanish food and wine. Coqueta's (Chiarello's new restaurant at Pier Five, San Francisco) chef de cuisine, Ryan McIlwraith, later joined Dawes for his own two week excursion, as well. Sampling both old and new, they visited wineries and marketplaces, as well as some of Spain's most revered dining establishments, including the Michelin three-star Arzak, Etxebarri, the temple to live fire-grilling; Tickets, the playful Barcelona tapas bar run by
Ferran Adri
à and his brother, Albert; and ABaC, where Catalan cooking goes avant-garde." - - Carolyn Jung, Food Arts, May 2013.
* * * * *
"In his nearly thirty years of wandering the back roads of Spain," Gerry Dawes has built up a much stronger bank of experiences than I had to rely on when I started writing Iberia...His adventures far exceeded mine in both width and depth..." -- James A. Michener, author of Iberia: Spanish Travels and Reflections
Shall deeds of Caesar or Napoleon ring
More true than Don Quixote's vapouring?
Hath winged Pegasus more nobly trod
Than Rocinante stumbling up to God?
Poem by Archer M. Huntington inscribed under the Don Quixote on his horse Rocinante bas-relief sculpture by his wife, Anna Vaughn Hyatt Huntington,
in the courtyard of the Hispanic Society of America's incredible museum at 613 W. 155th Street, New York City.
________________________________________________________________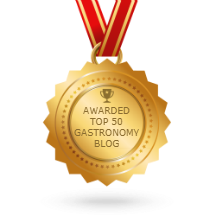 In 2019, again ranked in the Top 50 Gastronomy Blogs and Websites for Gastronomists & Gastronomes in 2019 by Feedspot. (Last Updated Oct 23, 2019)
"
The Best Gastronomy blogs selected from thousands of Food blogs, Culture blogs and Food Science blogs in our index using search and social metrics. We've carefully selected these websites because they are actively working to educate, inspire, and empower their readers with frequent updates and high-quality information."

36. Gerry Dawes's Spain: An Insider's Guide to Spanish Food, Wine, Culture and Travel
About Gerry Dawes
Dawes writes and speaks frequently on Spanish wine and gastronomy and leads gastronomy, wine and cultural tours to Spain. In addition to being awarded Spain's prestigious Premio Nacional de Gastronomía(National Gastronomy Award), he was a finalist for the 2001 James Beard Foundation's Journalism Award for Best Magazine Writing on Wine, won The Cava Institute's First Prize for Journalism for his article on cava in 2004, was awarded the CineGourLand "Cinéfilos y Gourmets" (Cinephiles & Gourmets) prize in 2009 in Getxo (Vizcaya, Basque Country, Spain) and received the 2009 Association of Food Journalists Second Prize for Best Food Feature in a Magazine for his Food Arts article, a retrospective piece about Catalan star chef, Ferran Adrià.
". . .That we were the first to introduce American readers to Ferran Adrià in 1997 and have ever since continued to bring you a blow-by-blow narrative of Spain's riveting ferment is chiefly due to our Spanish correspondent, Gerry "Mr. Spain" Dawes, the messianic wine and food journalist raised in Southern Illinois and possessor of a self-accumulated doctorate in the Spanish table. Gerry once again brings us up to the very minute. . ." - - Michael & Ariane Batterberry, Editor-in-Chief/Publisher and Founding Editor/Publisher, Food Arts, October 2009.
Pilot for a reality television series on wine, gastronomy, culture and travel in Spain.