* * * * *
Gazpachuelo de callos (tripe) with pimentón (Spanish paprika) during the jornada de gazpachuelo at Balneario Baños del Carmen, Málaga, October 15, 2019.
On my birthday on October 15, I was traveling in Spain with my fiancée Kay Balun, cookbook author Rozanne Gold and Michael Whiteman of Joseph Baum & Michael Whiteman Restaurants Consultants, New York and we were we staying in the Andalucian city of

Málaga for a couple of days.

One of Málaga's many attractions is its seaside restaurants, often originally modest beach

restaurants specializing in seafood, especially sardinas al espeto, sardines skewered on metal or cane spits (espetos) cooked over a wood fire and seafood soups and stews such as gazpachuelo Malagueño, and such dishes as at Balneario del Carmen. I had had gazpachuelo Malagueño at the home of Janet Mendel (see video below of Janet making gazpachuelo for American chefs Ryan McIlwraith (Bellota, San Francisco) and his then Executive Chef Joel Ehrlich) in Mijas, a spectacularly situated village 30 kms. west of

Málaga where I lived for nearly three years and had an art gallery back in the mid-1970s.

I researched restaurants in

Málaga, a city I have visited more in recent years than I did when I lived in nearby Mijas, and found that el

Balneario Baños del CarmenI was having their first Jornadas de Gazpachuelo, a two-week long promotion of this emblematic fisherman´s soup, so I asked Janet and her son Ben Searl to join us for lunch at the Baleneario in the

Málaga beachfront suburb of Pedregalejo, 5 kms. (3 miles) from the center of the city. (See my four-part series on the city of

Málaga:
It was a gorgeous day, a bit breezy but wonderful, and we sat outside on the terrace at a table just a few feet from the Mediterranean. I had called ahead and told the manager that we wanted to do a degustación of several different gazpachuelos (not to be confused with gazpacho, the classic cold tomato-based soup that is one of Spain´s best-known dishes, nor with ajo blanco [gazpacho blanco or gazpacho
Malagueño], the cold almond-and-garlic based soup. The restaurant was very accommodating, especially after I told them that I was bringing two well-known cookbook authors, Rozanne and Janet and the former Director of Restaurant Operations in New York's former World Trade Center. They served us tasting portions of classic
gazpachuelo Malagueño and three more variations on the theme:
gazpachuelo Vi
ña AB (
with clams, shrimp, peas, piquillo peppers and spiked with
González Byass Viña AB Amontillado Seco Sherry); gazpachuelo de almejas, with clams and thicker with more mahonesa (house-made mayonnaise) incorporated into the soup; and
gazpachuelo de callos (tripe) with pimentón (Spanish paprika).
Janet Mendel and Michael Whiteman of Joseph Baum & Michael Whiteman Restaurants Consultants, New York at Baleneario del Carmen.
And, of course, we had a few plates of sardinas al espeto, sardines skewered on metal or cane spits (espetos) and cooked over a wood fire, a specialty of the coasts of Málaga province (see photos below).
Weeks en October dedicated to Gazpachuelo at El Balneario Baños del Carmen, Málaga.
Menu with my notes for the I Jornadas Gastronómicas del Gazpachuelo at El Balneario de Carmen, Málaga.
Gazpachuelo Malagueño during the jornada de gazpachuelo at Balneario del Carmen, Málaga, October 15, 2019.

Gazpachuelo a la Malagueña, a Spanish fish stew, thickened with mayonnaise, made by Spanish cookbook author Janet Mendel in her kitchen in Mijas (Málaga), Andalucía, Spain, cooked especially for Chef Ryan McIlwraith and his Executive Chef Joel Ehrlich, whom I took on a research trip before they opened Bellota in San Francisco in 2015. Video by Gerry Dawes©2014.
Janet Mendel's gazpachuelo Malagueño served at her home in Mijas.
Here's how I came to make lunch for two American chefs. An old friend, Gerry Dawes, got in touch, saying he was taking two young chefs around western and southern Spain on a mission to explore regional Spanish cooking. One of them, Ryan McIlwraith, will be the executive chef for a new, Spanish-inflected restaurant in San Francisco (at 888 Brannon), part of the Absinthe Group (name and opening date still not announced; Note: the restaurant is Bellota). The other, Joel Erlich, will be the executive sous chef there.
Lunch at my house: Chef Ryan McIlwraith (left) and Gerry Dawes, gastronome.
I know Gerry from way back in the 1970s, when he lived in Mijas,the same village where I live. Now he's an expert on Spanish gastronomy, wine and travel, who does specialized custom tours for culinary luminaries.

Gerry said they would be traveling from Sanlucar de Barrameda via Ronda to Málaga and would like to stop off in Mijas so he could introduce the chefs to me and to my cookbooks.

Sure, I said, come for a late lunch.

Ohmygod. Whatever will I cook for a couple of chefs? This would be Ryan's third culinary trip to Spain, so he was no novato. He was previously chef de cuisine at Michael Chiarello's Coqueta (San Francisco) where he garnered experience working with Iberian-inflected cuisine.

"What do you know about gazpachuelo?" Gerry asked me. "Ryan wants to try a version of that while we're down there. Is there any place we can have it?"
GAZPACHUELO,
MEDITERRANEAN SEAFOOD CHOWDER RECIPE
This is the recipe for gazpachuelo that I served to the chefs. Following their suggestions, I've added more olive oil and Sherry to the recipe. Oh, yeah, and salt. Important to taste! The fish I used was merluza (fresh hake). I used the head, bones and trimmings to make a fish stock.

Serves 6.

1 egg, room temperature
¾ extra virgin olive oil
¼ cup fresh lemon juice
1 teaspoon salt
8 cups fish stock
1 ½ cups diced potatoes
¼ cup shelled peas, fresh or frozen
1 ½ cups boneless chunks of white fish
¼ cup chopped serrano ham
1/3 cup peeled shrimp (3 ounces)
Roasted red pepper, chopped (optional)
½ cup Sherry (fino or amontillado)
Salt, to taste

Place the egg in a blender container. With the motor running, add the oil in a slow stream until it is emulsified. Blend in the lemon juice and salt. Set aside.

Put the fish stock in a soup pot and bring to a boil. Add the potatoes and simmer, covered, 10 minutes. Add the peas and cook 5 minutes more.

Then add the chunks of fish, ham, shrimp and Sherry. Bring the soup to a boil, then reduce to a simmer.
With the motor running, ladle some of the hot soup into the emulsion in the blender. Remove the soup from the heat and whisk the emulsion into the soup. Serve immediately. The soup can be reheated, but do not boil.
Sardinas de espeto at Balneario del Carmen, Málaga, October 15, 2019.
Sardinas al espeto, sardines skewered on metal or cane spits (espetos) and cooked over a wood fire, a specialty of the coasts of Málaga province at Balneario del Carmen, Málaga, October 15, 2019.
Sardinas al espeto, sardines skewered on metal or cane spits (espetos) and cooked over a wood fire, a specialty of the coasts of Málaga province at Balneario del Carmen, Málaga, October 15, 2019.
Kay Balun and Janet Mendel's son Ben Searl at Baleneario del Carmen.
View of

Málaga from the terrace restaurant of

Balneario del Carmen.
Shall deeds of Caesar or Napoleon ring
More true than Don Quixote's vapouring?
Hath winged Pegasus more nobly trod
Than Rocinante stumbling up to God?
Poem by Archer M. Huntington inscribed under the Don Quixote on his horse Rocinante bas-relief sculpture by his wife, Anna Vaughn Hyatt Huntington,
in the courtyard of the Hispanic Society of America's incredible museum at 613 W. 155th Street, New York City.
____________________________________________________________________________________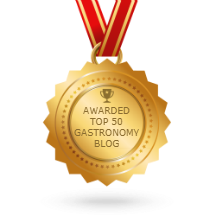 In 2019, again ranked in the Top 50 Gastronomy Blogs and Websites for Gastronomists & Gastronomes in 2019 by Feedspot. (Last Updated Oct 23, 2019)
"
The Best Gastronomy blogs selected from thousands of Food blogs, Culture blogs and Food Science blogs in our index using search and social metrics. We've carefully selected these websites because they are actively working to educate, inspire, and empower their readers with frequent updates and high-quality information."

36. Gerry Dawes's Spain: An Insider's Guide to Spanish Food, Wine, Culture and Travel
About Gerry Dawes
My good friend Gerry Dawes, the unbridled Spanish food and wine enthusiast cum expert whose writing, photography, and countless crisscrossings of the peninsula have done the most to introduce Americans—and especially American food professionals—to my country's culinary life." -- Chef-restaurateur-humanitarian José Andrés, Nobel Peace Prize Nominee and Oscar Presenter 2019
Gerry Dawes is the Producer and Program Host of Gerry Dawes & Friends, a weekly radio progam on
Pawling Public Radio
in Pawling, New York (streaming live and archived at www.pawlingpublicradio.org and at www.beatofthevalley.com.)
Dawes was awarded Spain's prestigious Premio Nacional de Gastronomía (National Gastronomy Award) in 2003. He writes and speaks frequently on Spanish wine and gastronomy and leads gastronomy, wine and cultural tours to Spain. He was a finalist for the 2001 James Beard Foundation's Journalism Award for Best Magazine Writing on Wine, won The Cava Institute's First Prize for Journalism for his article on cava in 2004, was awarded the CineGourLand "Cinéfilos y Gourmets" (Cinephiles & Gourmets) prize in 2009 in Getxo (Vizcaya) and received the 2009 Association of Food Journalists Second Prize for Best Food Feature in a Magazine for his Food Arts article, a retrospective piece about Catalan star chef, Ferran Adrià.
". . .That we were the first to introduce American readers to Ferran Adrià in 1997 and have ever since continued to bring you a blow-by-blow narrative of Spain's riveting ferment is chiefly due to our Spanish correspondent, Gerry "Mr. Spain" Dawes, the messianic wine and food journalist raised in Southern Illinois and possessor of a self-accumulated doctorate in the Spanish table. Gerry once again brings us up to the very minute. . ." - - Michael & Ariane Batterberry, Editor-in-Chief/Publisher and Founding Editor/Publisher, Food Arts, October 2009.
Pilot for a reality television series on wine, gastronomy, culture and travel in Spain.