Share This Gerry Dawes's Spain Post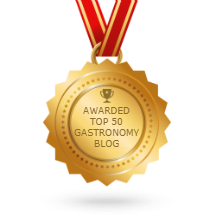 "My good friend Gerry Dawes, the unbridled Spanish food and wine enthusiast cum expert whose writing, photography, and countless crisscrossings of the peninsula have done the most to introduce Americans—and especially American food professionals—to my country's culinary life." -- Chef-restaurateur-humanitarian José Andrés of José Andrés ThinkFoodGroup, Nobel Peace Prize Nominee and Oscar Presenter 2019

"Trust me everyone, I have traveled with this man, if Gerry Dawes tells you to eat somewhere it's like Bourdain, believe it!!" - - Chef Mark Kiffin, The Compound Restaurant, Canyon Road, Santa Fe, New Mexico.

"Spain wouldn't be as known to Americans without the stories Gerry tells and writes." - - Superstar Catalan Chef Ferran Adrià, elBulli

"But, for Gerry, Spain is more than just the Adriàs and (Juan Mari and Elena) Arzaks. He has connected with all manner of people working at every level and in every corner of Spain. I'm always amazed at this reach. You can step into a restaurant in the smallest town in Spain, and it turns out they know Gerry somehow. I remember one rainy night in Madrid during the 2003 Madrid Fusión congress. I wanted to go to my favorite place for patatas bravas, the ultimate tapa. But Gerry had another place in mind, and I didn't know about it. But Gerry is always right. The potatoes at his place were amazing." - - Chef-restaurateur-humanitarian José Andrés, Nobel Peace Prize Nominee and Oscar Presenter 2019; Chef-partner of Mercado Little Spain at Hudson Yards, New York 2019

"Gerry Dawes loves Spain, and he loves Spanish wines. And the man knows whereof he speaks. The country bestowed upon him its prestigious Premio Nacional de Gastronomia (National Gastronomy Award) in 2003, and here's what James A. Michener said about him in Iberia: SpanishTravels and Reflections: "In his nearly thirty years of wandering the back roads of Spain, Gerry Dawes has built up a much stronger bank of experiences than I had to rely on when I started writing Iberia … His adventures far exceeded mine in both width and depth … " I first reached out to Dawes when I was planning a culinary journey to Barcelona, Rioja, and the Basque region of Spain, in 2011. I found his website and began reading, and have been learning from him ever since. Then, when I was preparing to stage at Arzak, in 2012, Dawes offered me some sound advice: learn Basque. He is opinionated – "You must decide whether you love wine or carpentry. If you want wood in your wine, suck on a toothpick as you drink your vino." – he lives life with passion, and he respects wine and the men and woman who make it. Here's to Gerry!" - - The Original Drinker: Spanish Wine Master Loves a $15.99 Rosado, Hates Wood and Always Avoids Wine Bars, James Brock, Paper City, papercitymag.com




Food Arts Silver Spoon Award to Gerry Dawes







Premio Nacional de Gastronomía - - James Beard Foundation Nomination (Best Wine Writing)


Premio Periodistíco Cava




Gerry Dawes's Article Medieval Riches of El Cid's City (About Burgos, Spain)




Front Page, The New York Times Sunday Travel Section




1/25/2011

* * * * *
Gerry y Sus Amigos (In Spanish, 1:44 secs.)
Posted by

Gerry Dawes's Spain
at 5:29 PM
0 comments


1/03/2011
* * * * *
Madrid
Ramón Freixa and Jordi Cruz, a superb young chef who recently moved from the wonderful off-the-beaten-path provincial restaurant L'Angle (located next to
Fundación Alicia
near Manresa) to take over at Barcelona's tony Restaurante Abac. Stars from other parts of Spain such as Quique DaCosta (Alicante), Mari Carmen Vélez (Alicante), Dani García (Andalucía) and Angel León (Andalucía). Madrid chefs will include Paco Roncero (La Terraza), Sergi Arola (Arola Gastro) and Ricardo Sanz (Kabuki Wellington).
The region of Galicia will be represented by transplanted Italian chef Flavio Morganti (Galileo, Ourense) and Beatriz Sotelo (La Estación, A Coruña) plus Iago Pazos y Marcos Cerqueiro, two young rising stars who run an exceptional tapas restaurant, Abastos 2.0, in the Santiago de Compostela market. On the sweet side, super stars include the great pasteleros-chocolateros Christían Escribà, Oriol Balaguer, Jordi Butrón, Paco Torreblanca and Jacob Torreblanca.
Mexico and South America chefs invited include Mexico's Bricio Domínguez and Martha Ortiz, with Peruvian star Gastón Acurio. Italy will be represented by the great Carlo Cracco and Carlo Petrini of Slow Food.
Each year,
Madrid
Bernard Lahousse (Sense for Taste, Bruges, Belgium)
Dave De Belder (De Godevaart, Antwerp
Gert de Mangeleer (Restaurant Hertong Jan,

Bruges
The first version of Madrid
Nobu & Ferran, Madrid Fusión 2004.
Photograph by Gerry Dawes©2004. Contact gerrydawes@aol.com.
"The only truth that counts is the product comes from the earth, passes from our stoves to the diner's mouth, and is then defecated."-
-
Posted by

Gerry Dawes's Spain
at 12:28 PM
2 comments


1/01/2011
* * * * *
___________________________________________________


About Gerry Dawes
Gerry Dawes's Spain: An Insider's Guide to Spanish Food, Wine, Culture and Travel

Gerry Dawes was awarded Spain's prestigious Premio Nacional de Gastronomía (National Gastronomy Award) in 2003. He writes and speaks frequently on Spanish wine and gastronomy and leads gastronomy, wine and cultural tours to Spain. He was a finalist for the 2001 James Beard Foundation's Journalism Award for Best Magazine Writing on Wine, won The Cava Institute's First Prize for Journalism for his article on cava in 2004, was awarded the CineGourLand "Cinéfilos y Gourmets" (Cinephiles & Gourmets) prize in 2009 in Getxo (Vizcaya) and received the 2009 Association of Food Journalists Second Prize for Best Food Feature in a Magazine for his Food Arts article, a retrospective piece about Catalan star chef, Ferran Adrià.

In December, 2009, Dawes was awarded the Food Arts Silver Spoon Award in a profile written by José Andrés.

". . .That we were the first to introduce American readers to Ferran Adrià in 1997 and have ever since continued to bring you a blow-by-blow narrative of Spain's riveting ferment is chiefly due to our Spanish correspondent, Gerry "Mr. Spain" Dawes, the messianic wine and food journalist raised in Southern Illinois and possessor of a self-accumulated doctorate in the Spanish table. Gerry once again brings us up to the very minute. . ." - - Michael & Ariane Batterberry, Editor-in-Chief/Publisher and Founding Editor/Publisher, Food Arts.
Trailer for a reality television series
on wine, gastronomy, culture and travel in Spain.
Posted by

Gerry Dawes's Spain
at 10:06 AM
0 comments