* * * * *
Periodically I, Geraldo (one of my nicknames), rate restaurants or experiences in Spain with 1-5 Salvador Dalí Persistence of Memory Melting Watches. You will find my ratings at the top of some posts. Casa Lucio has been upgraded to five of five on my
Salvador Dalí Persistence of Memory Melting Watches
Lucio Blásquez with his Virgen del Rocio pendant. This photo was published with a calendar featuring some of Spain's top restaurants. Photo by Gerry Dawes©2009. gerrydawes@aol.com
Casa Lucio is one of my favorite restaurants in Madrid. It is one of Madrid's best known restaurants and reservations are hard to come by, but Lucio Blásquez, Mari (his daughter) and Javier (one of his sons) treat me like a long-lost family member when I show up and somehow manage to find me a table.
This time I went with my friend Harold Heckle, an English journalist who lives in Madrid and has been my dinner companion on my occasions at Casa Lucio. Harold and I dined on huevos estrellados (fried potatoes with fried eggs "broken" over them); alubias con faisán (beans cooked with pheasant), a terrific solomillo (filet mignon) and arroz con leche with a caramelized crust, accompanied by a good bottle of Luís Cañas Rioja Tinto.
For some years now, I have been photographing all the waiters at Casa Lucio and tonight was the night I would get some of the ones I had missed (some have retired, new ones have taken their place on team. I had photographed all of them, except for my friend from Ubrique Jose Luís, who was ill, got their names, the towns the come from and years of service, along with photos of Mari, Javier and Fernando (the son who runs Los Huevos de Lucio, across the street).
With my great friend journalist Harold Heckle at Casa Lucio.
As usual, going to Casa Lucio was like coming home and after six months away from Madrid, I was long overdue for a homecoming.
On the same trip, one day I left Madrid Fusión early, around 3 p.m. and, because of a Madrid Taxi strike, I took the Madrid Metro, through at least three train changes, to the Latina station, which is around the corner from Casa Lucio. I arrived just before 4 p.m., when Lucio was sitting down with friends and family for lunch at the family table in the bar area. The called for another chair and made room for me to have lunch en familia. Did I mention that I love Lucio, his son Javier (General Manager), daughter Mari (she runs Huevos de Lucio across the street), his Chinchón-playing (a card game similar to Mus) buddies and a slew of the waiters at Lucio, many of whom are friends. To see the full story of the luncheon at Lucio click on the link and see 1/29/2019 Lunch with Lucio at Casa Lucio, Cava Baja, Madrid. Ensalada, lechazo asado (roast suckling lamb) and plenty of Rioja Reserva Tinto.
Gerry Dawes and legendary Casa Lucio owner Lucio Blásquez at lunch at Casa Lucio, Cava Baja, Madrid.
Two months later with Lucio, Mari Blásquez, Gerry Dawes and friends at lunch at Casa Lucio, Madrid, March 29, 2019. There were plates of jamón Ibérico and excellent aged Manchego cheese, mejillones a la gallega, gambas al ajillo, callos a la Madrileña, potaje de garbanzos, bacalao fresco con tomate, pan perdido con helado, Marqués de Caceres Rosado and Cune Rioja Reserva Tinto. And a great time!
Mejillones a la gallega.
Gambas al ajillo.
Callos a la Madrileña.
Potaje de garbanzos.
Bacalao fresco con tomate.
Lucio with his Chinchón-playing (a card game similar to Mus) buddies after lunch at Casa Lucio.
Shall deeds of Caesar or Napoleon ring
More true than Don Quixote's vapouring?
Hath winged Pegasus more nobly trod
Than Rocinante stumbling up to God?
Poem by Archer M. Huntington inscribed under the Don Quixote on his horse Rocinante bas-relief sculpture by his wife, Anna Vaughn Hyatt Huntington,
in the courtyard of the Hispanic Society of America's incredible museum at 613 W. 155th Street, New York City.
_______________________________________________________________________________________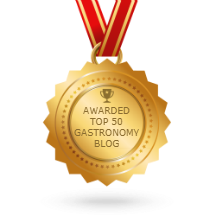 About Gerry Dawes
My good friend Gerry Dawes, the unbridled Spanish food and wine enthusiast cum expert whose writing, photography, and countless crisscrossings of the peninsula have done the most to introduce Americans—and especially American food professionals—to my country's culinary life." -- Chef-restaurateur-humanitarian José Andrés, Nobel Peace Prize Nominee and Oscar Presenter 2019
Gerry Dawes is the Producer and Program Host of Gerry Dawes & Friends, a weekly radio progam on
Pawling Public Radio
in Pawling, New York (streaming live and archived at www.pawlingpublicradio.org and at www.beatofthevalley.com.)
Dawes was awarded Spain's prestigious Premio Nacional de Gastronomía (National Gastronomy Award) in 2003. He writes and speaks frequently on Spanish wine and gastronomy and leads gastronomy, wine and cultural tours to Spain. He was a finalist for the 2001 James Beard Foundation's Journalism Award for Best Magazine Writing on Wine, won The Cava Institute's First Prize for Journalism for his article on cava in 2004, was awarded the CineGourLand "Cinéfilos y Gourmets" (Cinephiles & Gourmets) prize in 2009 in Getxo (Vizcaya) and received the 2009 Association of Food Journalists Second Prize for Best Food Feature in a Magazine for his Food Arts article, a retrospective piece about Catalan star chef, Ferran Adrià.
". . .That we were the first to introduce American readers to Ferran Adrià in 1997 and have ever since continued to bring you a blow-by-blow narrative of Spain's riveting ferment is chiefly due to our Spanish correspondent, Gerry "Mr. Spain" Dawes, the messianic wine and food journalist raised in Southern Illinois and possessor of a self-accumulated doctorate in the Spanish table. Gerry once again brings us up to the very minute. . ." - - Michael & Ariane Batterberry, Editor-in-Chief/Publisher and Founding Editor/Publisher, Food Arts, October 2009.
Pilot for a reality television series on wine, gastronomy, culture and travel in Spain.