Gildas (pronounced 'Hildas' in Spanish), the tapas whose curving anchovy bodies (salada, salty) alternating with olives (salada, salty) and picante guindilla peppers (verde & picante, green & spicy) on a skewer were inspired by Rita Hayworth's curves in the 1946 American movie 'Gilda,' which starred Hayworth and somehow made it past Generalisimo Franco's film censors since it was a pretty provocative "salada, verde and picante" (all of which have sexual connotations in Spanish) movie. Mercado de San Miguel, Madrid. (Note that these Gildas are made with boquerones en vinagre, fresh anchovies marinated in vinegar, not the traditional cured, salted anchoa normally used in making this pintxo.)
Gilda with the traditional cured anchovy at Bar Gorriti in the Casco Viejo (Old Quarter) of San Sebasti
á
Spaniards went wild over the 1946 Rita Hayworth film "Gilda," which first appeared in Spain at the end of 1947. In the grips of the Franco dictatorship, still not ten years since the end of the Spanish Civil War, Spanish moviegoers were so gobsmacked by Rita's sexiness and curvaceousness in Gilda, a movie which somehow got by the very Catholic Franco regimes censors. At newly opened Casa Vallés in San Sebastián, one of the bodega wine shop/food purveyor/bar's habitues, a man named Joaquín Aramburu, nicknamed "Txepetxa" (pronounced Chepecha), invented perhaps the first pintxo (Basque for tapa).
Supposedly imitating Rita Hayworth's voluptuousness, la Gilda was a cured anchovy in olive oil curving on a toothpick around slightly picante (Rita was certainly picante, or spicy, in Franco era Spain) green peppers--verde, the Spanish euphemism for "green,' or sexually naughty behavior; a viejo verde is a dirty old man. These green peppers, similar in taste and color to Greek pepperoncini peppers, are called guindillas (or piparras in Basque), the most famous of which came from the Guipuzcoan town (San Sebastián is in Guipuzcoa province) of Ybarra, whose piparras/guindillas were locally referred as "langostinos de Ybarra" (Ybarran prawns).
From ingredients—anchoas, guindillas and aceitunas (olives)--available to customers at Casa Vallés, Txeptxa used a toothpick to pinchar, poke a hole in or "pinch" the guindillas doubled up and pierced through on four sides around which he curved an anchovy, then skewered a round curvy olive (the breasts?) on to each end and the curvaceous Gilda tapa, perhaps the very first pintxo, was born. The bar owners, brothers Blas and Antxon Vallés, began putting the combination together, and dubbed it la Gilda and offered it as a finished pintxo to its customers. Thus, Rita Hayworth's performance in Gilda was immortalized in a tapa that can be found almost anywhere in Spain these days.
Ironically, Rita Hayworth (born Margarita Carmen Cansino) was of Spanish descent, Her father, a dancer, was from a town near Sevilla, just as ironically, renowned as the capital and possibly, the origin, of tapas in Spain. Her paternal grandfather, Antono Cansino was also a famous dancer, who ran the top dance school in Madrid and is credited with popularizing the bolero. The grandfather made the bolero famous; his granddaughter gave the name to one of the most famous tapas in Spain.
Comments are welcome and encouraged.
Text and photographs copyright by Gerry Dawes©2021. Using photographs without crediting Gerry Dawes©2021 on Facebook. Publication without my written permission is not authorized.
Shall deeds of Caesar or Napoleon ring
More true than Don Quixote's vapouring?
Hath winged Pegasus more nobly trod
Than Rocinante stumbling up to God?
Poem by Archer M. Huntington inscribed under the Don Quixote on his horse Rocinante bas-relief sculpture by his wife, Anna Vaughn Hyatt Huntington,
in the courtyard of the Hispanic Society of America's incredible museum at 613 W. 155th Street, New York City.
_______________________________________________________________________________________________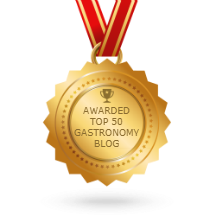 In 2019, again ranked in the Top 50 Gastronomy Blogs and Websites for Gastronomists & Gastronomes in 2019 by Feedspot. (Last Updated Oct 23, 2019)
"
The Best Gastronomy blogs selected from thousands of Food blogs, Culture blogs and Food Science blogs in our index using search and social metrics. We've carefully selected these websites because they are actively working to educate, inspire, and empower their readers with frequent updates and high-quality information."

36. Gerry Dawes's Spain: An Insider's Guide to Spanish Food, Wine, Culture and Travel
About Gerry Dawes
My good friend Gerry Dawes, the unbridled Spanish food and wine enthusiast cum expert whose writing, photography, and countless crisscrossings of the peninsula have done the most to introduce Americans—and especially American food professionals—to my country's culinary life." -- Chef-restaurateur-humanitarian José Andrés, Nobel Peace Prize Nominee and Oscar Presenter 2019
Gerry Dawes is the Producer and Program Host of Gerry Dawes & Friends, a weekly radio progam on
Pawling Public Radio
in Pawling, New York (streaming live and archived at www.pawlingpublicradio.org and at www.beatofthevalley.com.)
Dawes was awarded Spain's prestigious Premio Nacional de Gastronomía (National Gastronomy Award) in 2003. He writes and speaks frequently on Spanish wine and gastronomy and leads gastronomy, wine and cultural tours to Spain. He was a finalist for the 2001 James Beard Foundation's Journalism Award for Best Magazine Writing on Wine, won The Cava Institute's First Prize for Journalism for his article on cava in 2004, was awarded the CineGourLand "Cinéfilos y Gourmets" (Cinephiles & Gourmets) prize in 2009 in Getxo (Vizcaya) and received the 2009 Association of Food Journalists Second Prize for Best Food Feature in a Magazine for his Food Arts article, a retrospective piece about Catalan star chef, Ferran Adrià.
". . .That we were the first to introduce American readers to Ferran Adrià in 1997 and have ever since continued to bring you a blow-by-blow narrative of Spain's riveting ferment is chiefly due to our Spanish correspondent, Gerry "Mr. Spain" Dawes, the messianic wine and food journalist raised in Southern Illinois and possessor of a self-accumulated doctorate in the Spanish table. Gerry once again brings us up to the very minute. . ." - - Michael & Ariane Batterberry, Editor-in-Chief/Publisher and Founding Editor/Publisher, Food Arts, October 2009.
Pilot for a reality television series on wine, gastronomy, culture and travel in Spain.