* * * * *
Northern Spain: The Basque Country, Cantabria (the anchovy capital), Asturias (cheeses and cider), Galicia (one of the world's greatest seafood restaurants, tinned shellfish, Rías Baixas, Ribeiro, Ribeira Sacra and Monterrei wine regions), Tordesillas (Rueda and Toro) and Ribera del Duero (baby lamb chops cooked over grape vine cuttings)
From May 4 to April 14, 2023, I led a tour of Western and Southern Spain that was sold out.
I suggested to Chef James Campbell Caruso, La Boca Restaurant and La Boca Tienda (Santa Fe), who was already coming on that tour, that we could do a pre-trip tour of northern Spain. He jumped at the chance, then John Gottfried, founder of Gourmet Garage and Devour.tv, who has been to Spain with me twice, and Washington, DC Restaurant Consultant Janet Cam and her partner Jeffrey Krause asked to join us. Soon the Southwestern Chef and restaurant consultant Mark Miller, also of Santa Fe and has been to Spain with me six times), and his friend Chef Robert Quintana, who has co-authored books with him, signed on.
Wednesday, 26 April Madrid – Aranda Tudanca - Axpe-Atxondo - San Sebastián
We were picked up in Madrid by a taxi driver with a seven-passenger car, Antonio Fernández, whom I met and used on a trip last May.
On our way to Etebarri, our first stop in The Basque Country, I arranged for our group to have breakfast at Area Tudanca, where owner Jesús Tudanca, who was away on a business trip, arranged for us to taste his lovely Tudanca Ribera del Duero Tinto, along with breakfast.
By 13:30, we were having drinks on the terrace of Asador Etxebarri en Axpe/Atxondo, some four hours from Madrid. It would be my sixth visit to Etxebarri over the past 20+ years. Once again, we had a marvelous, with every dish a jewel of the product-driven cuisine that comes out of Chef-owner Bittor Arguinzoniz's masterful grill-based kitchen. Not living up to its advance billing on this occasion was the service, which was a bit disjointed and slow, nor was I impressed with the wine selections and service. It did not seem to be to be on a par with my experience at Etxebarri on other visits.
We stayed at the classic Hotel Londres, on El Paseo de la Concha (overlooking La Concha beach), in San Sebastián.

Our group on the terrace at Etxebarri,
Chef James Campbell Caruso, John Gottfried, Robert Quintana, Jeffrey Krauss and Janet Cam.
The infamous burro of Michael Chiarello fame.
Anchoas en salazón, cured anchovies, smoked and grilled.

Mantequilla con leche de cabra ahumada, smoked goat´s milk butter.
Percebes, goose barnacles.
Gambas de Pálamos, superb prawns from Pálamos in Catalunya.
Pulpitos con raíz de perejil, tiny octopus with parsely root.
Longueiron (navaja), razor clam.

Habitas con zizas, baby fava beans with thinly sliced spring mushrooms.
Kokotxas de merluza con kale, egg battered hake throat meat with kale.
Guisantes, garden peas.
Ventresca de atún, tuna belly.
Chuleta de vaca, steak from an old cow.



Comments are welcome and encouraged.
Text and photographs copyright by Gerry Dawes©2021. Using photographs without crediting Gerry Dawes©2021 on Facebook. Publication without my written permission is not authorized.
Shall deeds of Caesar or Napoleon ring
More true than Don Quixote's vapouring?
Hath winged Pegasus more nobly trod
Than Rocinante stumbling up to God?
Poem by Archer M. Huntington inscribed under the Don Quixote on his horse Rocinante bas-relief sculpture by his wife, Anna Vaughn Hyatt Huntington,
in the courtyard of the Hispanic Society of America's incredible museum at 613 W. 155th Street, New York City.
_______________________________________________________________________________________________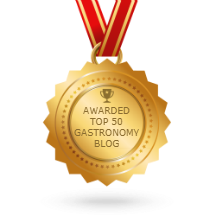 In 2019, again ranked in the Top 50 Gastronomy Blogs and Websites for Gastronomists & Gastronomes in 2019 by Feedspot. (Last Updated Oct 23, 2019)
"
The Best Gastronomy blogs selected from thousands of Food blogs, Culture blogs and Food Science blogs in our index using search and social metrics. We've carefully selected these websites because they are actively working to educate, inspire, and empower their readers with frequent updates and high-quality information."

36. Gerry Dawes's Spain: An Insider's Guide to Spanish Food, Wine, Culture and Travel
About Gerry Dawes
My good friend Gerry Dawes, the unbridled Spanish food and wine enthusiast cum expert whose writing, photography, and countless crisscrossings of the peninsula have done the most to introduce Americans—and especially American food professionals—to my country's culinary life." -- Chef-restaurateur-humanitarian José Andrés, Nobel Peace Prize Nominee and Oscar Presenter 2019
Gerry Dawes is the Producer and Program Host of Gerry Dawes & Friends, a weekly radio progam on
Pawling Public Radio
in Pawling, New York (streaming live and archived at www.pawlingpublicradio.org and at www.beatofthevalley.com.)
Dawes was awarded Spain's prestigious Premio Nacional de Gastronomía (National Gastronomy Award) in 2003. He writes and speaks frequently on Spanish wine and gastronomy and leads gastronomy, wine and cultural tours to Spain. He was a finalist for the 2001 James Beard Foundation's Journalism Award for Best Magazine Writing on Wine, won The Cava Institute's First Prize for Journalism for his article on cava in 2004, was awarded the CineGourLand "Cinéfilos y Gourmets" (Cinephiles & Gourmets) prize in 2009 in Getxo (Vizcaya) and received the 2009 Association of Food Journalists Second Prize for Best Food Feature in a Magazine for his Food Arts article, a retrospective piece about Catalan star chef, Ferran Adrià.
". . .That we were the first to introduce American readers to Ferran Adrià in 1997 and have ever since continued to bring you a blow-by-blow narrative of Spain's riveting ferment is chiefly due to our Spanish correspondent, Gerry "Mr. Spain" Dawes, the messianic wine and food journalist raised in Southern Illinois and possessor of a self-accumulated doctorate in the Spanish table. Gerry once again brings us up to the very minute. . ." - - Michael & Ariane Batterberry, Editor-in-Chief/Publisher and Founding Editor/Publisher, Food Arts, October 2009.
Pilot for a reality television series on wine, gastronomy, culture and travel in Spain.