* * * * *
The Whispering of the Tuna
Restaurante Campero Menú de Atún Rojo Salvaje de Almadraba 2019
On our first visit to Restaurante el Campero in Barbate (Cádiz) in February 2019, Kay and I had a marvelous lunch. On October 19, 2019, we were lucky enough to return with our friends, Michael Whiteman, President of Joseph Baum & Michael Whiteman International Restaurants Consultants, and cookbook author and culinary personality Rozanne Gold, who were touring Spain with us.
We arrived after 3 p.m. on a Saturday to find El Campero packed and I was worried that we might not get a table, but the woman at the maitre´d outside on the terrace at the entrance took our names and told us to wait in the bar. I told her that we had been there in February and that the Jefe de Sala, Salvador Cardoso, in the dining room had taken great care of us. As it turned out, she was Salvador´s wife, so we were soon seated and she told the staff to make sure we were in Salvador´s section.
Kay and Salvador Cardoso, Jefe de Sala, at Restaurante Campero who took such good care of us at this memorable luncheon.
Our superb luncheon ratified our first impression from February:
Since there were four of us and our friends were kind enough to be inviting us, we were able to try more dishes from Campero's stellar menu from the kitchen of chef-owner José Melero. All the tuna is caught in the almadraba tuna roundout off the coast of
Cádiz province and is flash frozen to -60 C (-76 F) to kill any possible parasites.
The following dishes include some of the best tuna dishes I have ever eaten.
Almadraba-caught tuna menu from El Campero restaurant.
Atun rojo de almadraba tartar con caviar esturion del Río Frío (Granada), red almadraba tuna tartar with sturgeon caviar from Río Frío (Granada), Restaurante el Campero, Barbate.
Ventresca de atún de almadraba (almadraba tuna roundup tuna belly), El Campero, Barbate.
Morrillo of atún de almadraba, grilled morrillo (top of the head of the tuna), pure de calabaza especiada (pumpkin puree), berza (slaw), Restaurante El Campero, Barbate (Cádiz), Spain.
Facera (carilleras) de atún de almadraba con salsa de piñones y patata picante, carilleras-tuna cheeks-with a pine nut sauce and picante potatoes at El Campero, Restaurante El Campero, Barbate (Cádiz), Spain.
Pescado a la espalda de la costa de Trafalgar (bocinegra, bocinegro or pargo, Couch´s sea bream, stonebass), grilled open-back, grilled Couch's sea bream, stonebass rock fish from Trafalgar, garlic refrito (a classic Spanish sauce of garlic fried in olive oil with a shot of vinegar or citrus added), patatas pandaderas with peppers, sauteed mixed vegetables.
garlic refrito (a classic Spanish sauce of garlic fried in olive oil with a shot of vinegar or citrus added), patatas pandaderas with peppers and menestra, sauteed mixed vegetables.
Guímaro, a Godello-based white wine from Ribeira Sacra, our luncheon wine at Restaurante Campaero, Barbate.
Restaurante Campero
Avenida Constitución, Local 5 C
11160 Barbate, Cádiz, Spain
Gerry Dawes's Persistence of Memory* (Salvador Dalí) Melting Watch Awards.
Shall deeds of Caesar or Napoleon ring
More true than Don Quixote's vapouring?
Hath winged Pegasus more nobly trod
Than Rocinante stumbling up to God?
Poem by Archer M. Huntington inscribed under the Don Quixote on his horse Rocinante bas-relief sculpture by his wife, Anna Vaughn Hyatt Huntington,
in the courtyard of the Hispanic Society of America's incredible museum at 613 W. 155th Street, New York City.
________________________________________________________________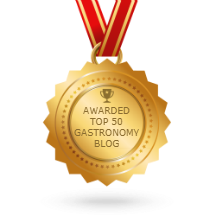 In 2019, again ranked in the Top 50 Gastronomy Blogs and Websites for Gastronomists & Gastronomes in 2019 by Feedspot. (Last Updated Oct 23, 2019)
"
The Best Gastronomy blogs selected from thousands of Food blogs, Culture blogs and Food Science blogs in our index using search and social metrics. We've carefully selected these websites because they are actively working to educate, inspire, and empower their readers with frequent updates and high-quality information."

36. Gerry Dawes's Spain: An Insider's Guide to Spanish Food, Wine, Culture and Travel
About Gerry Dawes
My good friend Gerry Dawes, the unbridled Spanish food and wine enthusiast cum expert whose writing, photography, and countless crisscrossings of the peninsula have done the most to introduce Americans—and especially American food professionals—to my country's culinary life." -- Chef-restaurateur-humanitarian José Andrés, Nobel Peace Prize Nominee and Oscar Presenter 2019
Gerry Dawes is the Producer and Program Host of Gerry Dawes & Friends, a weekly radio progam on
Pawling Public Radio
in Pawling, New York (streaming live and archived at www.pawlingpublicradio.org and at www.beatofthevalley.com.)
Dawes was awarded Spain's prestigious Premio Nacional de Gastronomía (National Gastronomy Award) in 2003. He writes and speaks frequently on Spanish wine and gastronomy and leads gastronomy, wine and cultural tours to Spain. He was a finalist for the 2001 James Beard Foundation's Journalism Award for Best Magazine Writing on Wine, won The Cava Institute's First Prize for Journalism for his article on cava in 2004, was awarded the CineGourLand "Cinéfilos y Gourmets" (Cinephiles & Gourmets) prize in 2009 in Getxo (Vizcaya) and received the 2009 Association of Food Journalists Second Prize for Best Food Feature in a Magazine for his Food Arts article, a retrospective piece about Catalan star chef, Ferran Adrià.
". . .That we were the first to introduce American readers to Ferran Adrià in 1997 and have ever since continued to bring you a blow-by-blow narrative of Spain's riveting ferment is chiefly due to our Spanish correspondent, Gerry "Mr. Spain" Dawes, the messianic wine and food journalist raised in Southern Illinois and possessor of a self-accumulated doctorate in the Spanish table. Gerry once again brings us up to the very minute. . ." - - Michael & Ariane Batterberry, Editor-in-Chief/Publisher and Founding Editor/Publisher, Food Arts, October 2009.
Pilot for a reality television series on wine, gastronomy, culture and travel in Spain.