* * * * *
The tale of the
Salvador Dalí Persistence of Memory Melting Watch pin, new one of the left, the one that has the history of the paving stones of Cuidad Rodrigo imbedded in it.
Some very strange things happen in the course of one's life, but this is one of the strangest that I have ever experienced. My partner Kay and I were in the small city of Cuidad Rodrigo, a fortified city 15 miles from the Portuguese border that is surrounded by walls that once had around it a moat, part of which still exists (without water). I always wear a Salvador Dalí Persistence of Memory Melting Watch pin and I have many of the same pin, since I have lost a dozen or more over the years, because the clasps were flimsy and they often came off during the course of my road warrior travels. I finally ordered a new batch of pins and bought a box of sturdy pin clasps to keep from losing them.
Click on title to see entire post.
I always wear
a Salvador Dalí Persistence of Memory Melting Watch pin on my Road Warrior vest. At Palacio de Cibeles Restaurant in Madrid.
In the small bathroom of the Hotel Arcos Catedral, where we were staying in Cuidad Real, I heard the proverbial pin drop and realized that my Dalí pin had dropped to the floor. I suspected that it had bounced behind the toilet and I began to look for it. I checked every nook and cranny of the bathroom and Kay helped me look. We came up with nothing. Thinking that it could not have gone far, I gave up figuring I would find it later, got another of the pins I carry out and put it on my Road Warrior photographer-fishermen's vest and we went out. We had lunch at a restaurant in the Plaza Mayor owned by the owner of Hotel Arcos Cathedral who also raises Ibérico pigs, then we walked around for a couple of hours exploring Cuidad Rodrigo.
We returned to the Plaza Mayor and saw an artisanal ice cream offering at a restaurant across the square from Restaurante Arcos. I eyed a table further in from the sidewalk, then decided on one near the ice cream stand at the restaurant. We sat down, Kay looked to the ground and spotted my Dali pin, which no showed signs of having been stuck to someone's shoe and was rubbed rough from walking, then dropped off on the paving stones.
I figured it out, I think. The pin dropped on the floor of the bathroom and bounced into the trouser cuff of my Docker's khakis. I then walked several blocks with Kay to the first restaurant for lunch where it must have fallen out. Someone stepped on the pin and walked it across the square or I stepped on it and took it on a walking tour of Cuidad Rodrigo. Either it fell from a stranger's shoe or from mine precisely at the spot, where we sat to have some ice cream.
I wear the Salvador Dalí Persistence of Memory Melting Watch pin on all my jackets. With star chef Albert Adriá in New York.
The feeling was spooky, but then I realized that Salvador Dalí was probably just playing one of his tricks on me, at least that is what will persist in my memory.

* * * * *
Constructive comments are welcome and encouraged.
If you enjoy these blog posts, please consider a contribution to help me continue the work of gathering all this great information and these photographs for Gerry Dawes's Insider's Guide to Spanish Food, Wine, Culture and Travel. Contributions of $5 and up will be greatly appreciated. Contributions of $100 or more will be acknowledged on the blog. Please click on

this secure link to Paypal

to make your contribution.
Text and photographs copyright by Gerry Dawes©2021. Using photographs without crediting Gerry Dawes©2021 on Facebook. Publication without my written permission is not authorized.
Shall deeds of Caesar or Napoleon ring
More true than Don Quixote's vapouring?
Hath winged Pegasus more nobly trod
Than Rocinante stumbling up to God?
Poem by Archer M. Huntington inscribed under the Don Quixote on his horse Rocinante bas-relief sculpture by his wife, Anna Vaughn Hyatt Huntington,
in the courtyard of the Hispanic Society of America's incredible museum at 613 W. 155th Street, New York City.
_______________________________________________________________________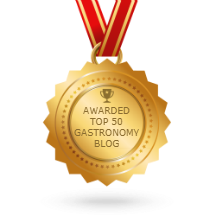 In 2019, again ranked in the Top 50 Gastronomy Blogs and Websites for Gastronomists & Gastronomes in 2019 by Feedspot. (Last Updated Oct 23, 2019)
"
The Best Gastronomy blogs selected from thousands of Food blogs, Culture blogs and Food Science blogs in our index using search and social metrics. We've carefully selected these websites because they are actively working to educate, inspire, and empower their readers with frequent updates and high-quality information."

36. Gerry Dawes's Spain: An Insider's Guide to Spanish Food, Wine, Culture and Travel
About Gerry Dawes Bio, Awards, Quotes from Famous Chefs and Culinarians and Custom Gastronomic and Cultural Tours to Spain
Gerry Dawes was the Producer and Program Host of Gerry Dawes & Friends, a weekly radio progam on
Pawling Public Radio
in Pawling, New York (streaming live and archived at www.pawlingpublicradio.org and at www.beatofthevalley.com.)
Dawes was awarded Spain's prestigious Premio Nacional de Gastronomía (National Gastronomy Award) in 2003. He writes and speaks frequently on Spanish wine and gastronomy and leads gastronomy, wine and cultural tours to Spain. He was a finalist for the 2001 James Beard Foundation's Journalism Award for Best Magazine Writing on Wine, won The Cava Institute's First Prize for Journalism for his article on cava in 2004, was awarded the CineGourLand "Cinéfilos y Gourmets" (Cinephiles & Gourmets) prize in 2009 in Getxo (Vizcaya) and received the 2009 Association of Food Journalists Second Prize for Best Food Feature in a Magazine for his Food Arts article, a retrospective piece about Catalan star chef, Ferran Adrià.
". . .That we were the first to introduce American readers to Ferran Adrià in 1997 and have ever since continued to bring you a blow-by-blow narrative of Spain's riveting ferment is chiefly due to our Spanish correspondent, Gerry "Mr. Spain" Dawes, the messianic wine and food journalist raised in Southern Illinois and possessor of a self-accumulated doctorate in the Spanish table. Gerry once again brings us up to the very minute. . ." - - Michael & Ariane Batterberry, Editor-in-Chief/Publisher and Founding Editor/Publisher, Food Arts, October 2009.
Pilot for a reality television series on wine, gastronomy, culture and travel in Spain.