* * * * *
Fernando Blázquez, family member and General Manager, La Taberna de los Huevos de Lucio, Cava Baja, Madrid.

The adventure continues, in Madrid. Yesterday and last night in Madrid, I got a big dose of what the effects of COVID have meant in Spain. Yesterday with my long-time BGF Gabriela Llamas, who told me that she, her husband and three grown children had all had the virus, as well as her 91-year old mother Clara Maria González de Amezua. With Gabi, I visited Clara Maria at her wonderful home in Puerta de Hierro.
After a jet-lag siesta, I set out by Metro from Callao, just off the Gran Via, to Marisquería Rafa, where I could not call because my Spanish movil number was taken away because I have been out of the country for so long due to the COVID restriction on entry. I arrived to find Rafa closed on Sunday nights now, so I took taxi to Casa Lucio, my other habitual Sunday night in Madrid haunt. I had a terrific taxi driver who called Casa Lucio (at 10:30 p.m.) and Lucio daughter Mari answered. I talked to her and she told me Lucio also was closed now on Sunday nights, but La Taberna de Lucio, just across the street was open and her brother Fernando was there and that I should go.
Click on title to see entire post.
Fernando with part of his wine cave stash.
I went and Fernando treated me like royalty, bringing out several great traditional Spanish dishes on which he has put his own personal twist. I should emphasize that La Taberna de los Huevos de Lucio is a completely new and larger restaurant that sprawls across a 700 meter space, but has several of the less crowded spaces that surround the kitchen. Halfway through my dinner, while we were waiting for another course to come out, Fernando took me on prideful tour of his new place and showed off his look-in, temperature-controlled wine storage units with some very impressive selections.
First, he opened a bottle of Raventos i Blanc Blanc de Nits Reserva Rosat Brut, a stunning rosado (rosé) sparkling wine that is on the quality level of great Champagne. I asked for some jamón Ibérico and he brought me a whole ración, the some exquisite anchoas cured in salt and oil and served with fingers o bread, a small dish of salmorejo and minced sun-dried tomatoes en olive oil.
Since I am from New York, Fernando Blázquez insisted that I try La Taberna de Lucio´s cheese cake for dessert. It was a small moulded mound of delicious cheesecake served with sides of mermelada de frambuesa (raspberry jam) and a dish of strawberry mousse with fresh-cut halved strawberries imbedded in it.
I waddled out of La Taberna just after midnight. I decided to walk back to my hotel near the Callao Metro, but was jet-lagged tired after I reached the Plaza Mayor and decided to get a taxi the rest of the way. The fact that I was one of the few people on the streets at that hour was also disconcerting, so I bagged it favor of a short taxi ride.
I highly recommend that even if you can get into Casa Lucio, that you also try La Taberna de los Huevos de Lucio just across the street. Please tell Fernando that I sent you.
Waiter Andrés Ureña with his Lucio logo mascarilla, COVID mask.
Comments are welcome and encouraged.
Text and photographs copyright by Gerry Dawes©2021. Using photographs without crediting Gerry Dawes©2021 on Facebook. Publication without my written permission is not authorized.
Shall deeds of Caesar or Napoleon ring
More true than Don Quixote's vapouring?
Hath winged Pegasus more nobly trod
Than Rocinante stumbling up to God?
Poem by Archer M. Huntington inscribed under the Don Quixote on his horse Rocinante bas-relief sculpture by his wife, Anna Vaughn Hyatt Huntington,
in the courtyard of the Hispanic Society of America's incredible museum at 613 W. 155th Street, New York City.
_______________________________________________________________________________________________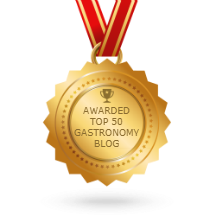 In 2019, again ranked in the Top 50 Gastronomy Blogs and Websites for Gastronomists & Gastronomes in 2019 by Feedspot. (Last Updated Oct 23, 2019)
"
The Best Gastronomy blogs selected from thousands of Food blogs, Culture blogs and Food Science blogs in our index using search and social metrics. We've carefully selected these websites because they are actively working to educate, inspire, and empower their readers with frequent updates and high-quality information."

36. Gerry Dawes's Spain: An Insider's Guide to Spanish Food, Wine, Culture and Travel
About Gerry Dawes
My good friend Gerry Dawes, the unbridled Spanish food and wine enthusiast cum expert whose writing, photography, and countless crisscrossings of the peninsula have done the most to introduce Americans—and especially American food professionals—to my country's culinary life." -- Chef-restaurateur-humanitarian José Andrés, Nobel Peace Prize Nominee and Oscar Presenter 2019
Gerry Dawes is the Producer and Program Host of Gerry Dawes & Friends, a weekly radio progam on
Pawling Public Radio
in Pawling, New York (streaming live and archived at www.pawlingpublicradio.org and at www.beatofthevalley.com.)
Dawes was awarded Spain's prestigious Premio Nacional de Gastronomía (National Gastronomy Award) in 2003. He writes and speaks frequently on Spanish wine and gastronomy and leads gastronomy, wine and cultural tours to Spain. He was a finalist for the 2001 James Beard Foundation's Journalism Award for Best Magazine Writing on Wine, won The Cava Institute's First Prize for Journalism for his article on cava in 2004, was awarded the CineGourLand "Cinéfilos y Gourmets" (Cinephiles & Gourmets) prize in 2009 in Getxo (Vizcaya) and received the 2009 Association of Food Journalists Second Prize for Best Food Feature in a Magazine for his Food Arts article, a retrospective piece about Catalan star chef, Ferran Adrià.
". . .That we were the first to introduce American readers to Ferran Adrià in 1997 and have ever since continued to bring you a blow-by-blow narrative of Spain's riveting ferment is chiefly due to our Spanish correspondent, Gerry "Mr. Spain" Dawes, the messianic wine and food journalist raised in Southern Illinois and possessor of a self-accumulated doctorate in the Spanish table. Gerry once again brings us up to the very minute. . ." - - Michael & Ariane Batterberry, Editor-in-Chief/Publisher and Founding Editor/Publisher, Food Arts, October 2009.
Pilot for a reality television series on wine, gastronomy, culture and travel in Spain.