* * * * *
Lucio Blázquez, gran tabernero and owner of Casa Lucio, Cava Baja, Madrid, with Gerry Dawes at Casa Lucio a decade ago.
May 31, 2021
I arrived in Madrid on May Sunday, May 30, hoping to repeat my long-time custom of going to Casa Lucio on Cava Baja for dinner. If I am in Madrid on a Sunday night, that is where you will find me by evening´s close, even if I begin at the bar of Marisquería Rafa on the far side of the Parque de Retiro.
I found Casa Lucio closed, but I also knew that for a couple of years now, Lucio, now in his mid-80s stopping coming in for dinner, just lunch, so I would not get to see him at least that night.

He had survived COVID at his tender age and I was anxious to see him.

On Sunday night, Lucio´s daughter Mari sent to me to Los Huevos de Lucio, run by her brother Fernando and I had a marvelous time.

You can read about my experience here:

Madrid, Fernando Blázquez & La Taberna de Los Huevos de Lucio, May 30, 2021.

Sunset in a Glass: Adventures of a Food and Wine Road Warrior in Spain. Pre-Post COVID Road Warrior Adventure.
Click on title to see the rest of this article.

May 31, 2021.
When I arrived at Casa Lucio after 4 p.m., I found Javier Blázquez, Lucio´s son who manages Casa Lucio, finishing lunch at one of the tables set up at the bar. Because of COVID, patrons have not been able to congregate at bars to have tapas and drinks, but a few well-spaced tables were set up in each bar. Javier was having lunch at one of them and invited me to sit down. He was having lentejas (a savory stew of lentils, potatoes and pork). After I sat down, Javier´s sister Mari started to remove the big bowl containing the rest of the lentils, but I told her I wanted to have that, so the waiters brought me a bowl and I had the rest of the lentejas.
Lucio as always was with friends at the family dining table in the bar area playing his beloved Chinchón, a Spanish card game similar to gin rummy. Lucio plays Chinchón every single day after lunch with friends and until aging began to catch up to him, he did the same after the evening shift.
After lunch at Casa Lucio, I encountered siblings Mari and Javier Bláquez, who run Casa Lucio and with brother Fernando, La Taberna los Huevos de Lucio, the restaurants of their father, the great Madrid tabernero Lucio Bláquez. They were with Mari's two pet dogs, so I photographed them in front of the restaurant.

Mari and Javier Blázquez with Mari's dogs in front of Casa Lucio on Cava Baja, Madrid. Photo by Gerry Dawes©2021.
I finished photographing Mari and Javier with Mari's dogs, Mari told me that they had to go home and change clothes because she was going with Lucio to the Hotel Wellington, where he was to receive one of the annual Cubi Awards, his for his career accomplishments and professional dedication as one of the great taberneros of Madrid.
Since I am friends with the Director of Hotel Wellington, José Rodríguez Tarín, who every knows by his nickname "Tarín" (his mother's maiden name), I knew I could at least get into the cocktail portion of the dinner, so I went back to my hotel and put on a jacket and tie (for the first time in two years) and arrived at the Wellington at 8 p.m. I have been to scores of this kinds of events in Madrid and New York, so I know the drill. Walk in reasonably dressed and ask where the event is or follow the crowd. I asked and was told
I ascended to the second floor, la primera planta in Spanish, the floor just above la planta baja (the lower floor). I soon found Mari and Lucio and at the outdoor bar and lounge area around the hotel swimming pool, where the dinner and awards event were to take place. Lucio and I were wearing ties, but few other men at the event were. Most of the men were dressed quite casually, with only a few wearing business suits. Most of the women were stylishly addressed for the event.
Lucio
Blázquez

and his daughter Mari at thee Cubi Awards at Hotel Wellington.
Photo by Gerry Dawes©2021.
I hung out at in the bar with Lucio and Mari as any number of Spanish dignitaries stopped by to congratulate him, including Pepa Muñoz, Presidenta of la Federación de Cocineros y Reposteros de España (Facyre), the Federation of Cooks and Confectioners of Spain, the president of the Community of Madrid, Isabel Díaz Ayuso and the mayor José Luis Martínez -Almeida, who were also receiving the Cubí Award for their "support to the gastronomic sector." José Andrés´s World Central Kitchen would also recieve a special Solidarity Award for their efforts in feeding the hungry around the world. José Andrés was not present, but his representative accepted the award.
Pepa Muñoz, Presidenta of la Federación de Cocineros y Reposteros,

Lucio

Blázquez and

Madrid Mayo

r José Luis Martínez-Almeida.

Photo by Gerry Dawes©2021.




Mari and Lucio talked the event organizers, told them that I was with them and asked for them to provide me with a seat at the dinner so I could see Lucio gets his Award. They did and I was seated at a table with Rafael Ansón, former-presidente de la Real Academia de Gastronomía Española. I stayed for the Awards and the first course, but when I saw a thunderstorm threatening this outdoor gathering, I excused myself and left, knowing that if I waited until the storm hit, I would never be able to a taxi back to my hotel. I returned to Callao area near my hotel and at the outdoor terrace of O Faro Finisterre restaurant, I sat down to a satisfying salmorejo, the rest of my dinner.

The Cubi Awards
Slide show at the Cubi Awards of Lucio with some of the notables that he has entertained at Casa Lucio.
Lucio with actor Danny Glover.

Lucio with singer Julio Iglesias at Casa Lucio.

Lucio with actor Pierce Brosnan at Casa Lucio.
Lucio with First Lady Laura Bush and Queen Sofia of Spain at Casa Lucio.
* * * * *
Constructive comments are welcome and encouraged.
If you enjoy these blog posts, please consider a contribution to help me continue the work of gathering all this great information and these photographs for Gerry Dawes's Insider's Guide to Spanish Food, Wine, Culture and Travel. Contributions of $5 and up will be greatly appreciated. Contributions of $100 or more will be acknowledged on the blog. Please click on

this secure link to Paypal

to make your contribution.
Text and photographs copyright by Gerry Dawes©2021. Using photographs without crediting Gerry Dawes©2021 on Facebook. Publication without my written permission is not authorized.
Shall deeds of Caesar or Napoleon ring
More true than Don Quixote's vapouring?
Hath winged Pegasus more nobly trod
Than Rocinante stumbling up to God?
Poem by Archer M. Huntington inscribed under the Don Quixote on his horse Rocinante bas-relief sculpture by his wife, Anna Vaughn Hyatt Huntington,
in the courtyard of the Hispanic Society of America's incredible museum at 613 W. 155th Street, New York City.
_______________________________________________________________________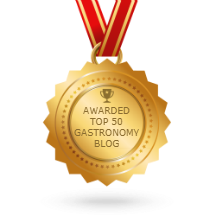 In 2019, again ranked in the Top 50 Gastronomy Blogs and Websites for Gastronomists & Gastronomes in 2019 by Feedspot. (Last Updated Oct 23, 2019)
"
The Best Gastronomy blogs selected from thousands of Food blogs, Culture blogs and Food Science blogs in our index using search and social metrics. We've carefully selected these websites because they are actively working to educate, inspire, and empower their readers with frequent updates and high-quality information."

36. Gerry Dawes's Spain: An Insider's Guide to Spanish Food, Wine, Culture and Travel
About Gerry Dawes Bio, Awards, Quotes from Famous Chefs and Culinarians and Custom Gastronomic and Cultural Tours to Spain
Gerry Dawes was the Producer and Program Host of Gerry Dawes & Friends, a weekly radio progam on
Pawling Public Radio
in Pawling, New York (streaming live and archived at www.pawlingpublicradio.org and at www.beatofthevalley.com.)
Dawes was awarded Spain's prestigious Premio Nacional de Gastronomía (National Gastronomy Award) in 2003. He writes and speaks frequently on Spanish wine and gastronomy and leads gastronomy, wine and cultural tours to Spain. He was a finalist for the 2001 James Beard Foundation's Journalism Award for Best Magazine Writing on Wine, won The Cava Institute's First Prize for Journalism for his article on cava in 2004, was awarded the CineGourLand "Cinéfilos y Gourmets" (Cinephiles & Gourmets) prize in 2009 in Getxo (Vizcaya) and received the 2009 Association of Food Journalists Second Prize for Best Food Feature in a Magazine for his Food Arts article, a retrospective piece about Catalan star chef, Ferran Adrià.
". . .That we were the first to introduce American readers to Ferran Adrià in 1997 and have ever since continued to bring you a blow-by-blow narrative of Spain's riveting ferment is chiefly due to our Spanish correspondent, Gerry "Mr. Spain" Dawes, the messianic wine and food journalist raised in Southern Illinois and possessor of a self-accumulated doctorate in the Spanish table. Gerry once again brings us up to the very minute. . ." - - Michael & Ariane Batterberry, Editor-in-Chief/Publisher and Founding Editor/Publisher, Food Arts, October 2009.
Pilot for a reality television series on wine, gastronomy, culture and travel in Spain.