* * * * *
Ribadavia (Ourense, Galicia)
Gil Avital and Herminia with her Sephardic recipe pastries, La Tafona da Herminia,

Ribadavia (Ourense), Galicia, April 1, 2019.
All posts and photographs are copyrighted and reproduction is prohibited, except for sharing on social media, without written permission and author credit.
Photograph from an early visit, Herminia and her selection of pastries made from Sephardic recipes from the 15th & 16th centuries, A Tafona da Herminia, Barrio Judio, Ribadavia (Ourense province), Galicia, Spain. Photo by Gerry Dawes©2019, Canon M3
My pursuit of Jewish historical sites in Spain, no doubt a remnant of an earlier incarnation since I am not Jewish, took a quantum leap on my four-week wandering across Spain in late March and most of April. On the first part of the trip, I took a friend Gil Avital, originally from Israel and former owner of Tertulia Restaurant in Manhattan, to the old Jewish Quarter of Ribadavia in Galicia, where I have been nearly a dozen times. The Barrio Judio of Ribadavia is particularly fascinating since Jews were there from the 12th to the 16th Centuries, so they managed to hang on for awhile after the expulsion order in 1492, apparently crossing into nearby Portugal when the Inquisition was leaning on them, then coming back when the pressure was not as intense.
La Tafona da Herminia, Barrio Judio, Ribadavia (Ourense province), Galicia, Spain.
Photo by Gerry Dawes©2019.
I was delighted to find Herminia of La Tafona da Herminia at work de-stemming figs for the filling she uses in some of her Sephardic recipe pastries. She has recovered a number of recipes for typical Jewish pastries from the period when this Barrio was inhabited by Jews and now makes them for sale in her bakery.
Descriptions of pastries at La Tafona da Herminia, Barrio Judio, Ribadavia (Ourense province), Galicia, Spain. Photo by Gerry Dawes©2019.
Herminia has some ten different pastries and a sheet with drawings and the name of each pastry written in Gallego. There are bocadiños de améndoas (round cookies made almonds and cinnamon), kamisch-broit (made with walnuts or almonds), mamul (basic ingredients are dried fruits such as the figs, poppy petals and orange petal water), ma'amul (date cream and rose water), ghorayebah (wholemeal hazelnut flour), mostachudos (with walnuts and cloves), bocadiños de dátiles (with dates, walnut and ground brown sugar), kuferlin (wholemeal almond flower), kijeleje de mon (not sure if this is a riff on Demon's Souls; made with poppy seeds), masiñas de mapoulas (mapoulas is gallego for ampolas, poppies; this is made with poppy seeds and vanilla essence) and cardamomo (with cardamom and almonds).
Gerry Dawes with Herminia at her Tafona de Herminia bakery in Ribadavia (Ourense), Galicia. Photo by Gil Avital.

Gil bought a half kilo of these cookie-like pastries we and shared them, including Herminia's delicious fig-laced ones, for several days of our trip across Galicia. They were quite good.
Gerry Dawes and Gil Avital in the Barrio Judio of
Ribadavia (Ourense province), Galicia.

More on Sephardic Spain:
Constructive comments are welcome and encouraged.
If you enjoy these blog posts, please consider a contribution to help me continue the work of gathering all this great information and these photographs for Gerry Dawes's Insider's Guide to Spanish Food, Wine, Culture and Travel. Contributions of $5 and up will be greatly appreciated. Contributions of $100 or more will be acknowledged on the blog. Please click on

this secure link to Paypal

to make your contribution.
Text and photographs copyright by Gerry Dawes©2021. Using photographs without crediting Gerry Dawes©2021 on Facebook. Publication without my written permission is not authorized.
Shall deeds of Caesar or Napoleon ring
More true than Don Quixote's vapouring?
Hath winged Pegasus more nobly trod
Than Rocinante stumbling up to God?
Poem by Archer M. Huntington inscribed under the Don Quixote on his horse Rocinante bas-relief sculpture by his wife, Anna Vaughn Hyatt Huntington,
in the courtyard of the Hispanic Society of America's incredible museum at 613 W. 155th Street, New York City.
________________________________________________________________________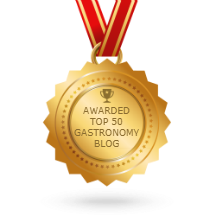 In 2019, again ranked in the Top 50 Gastronomy Blogs and Websites for Gastronomists & Gastronomes in 2019 by Feedspot. (Last Updated Oct 23, 2019)
"
The Best Gastronomy blogs selected from thousands of Food blogs, Culture blogs and Food Science blogs in our index using search and social metrics. We've carefully selected these websites because they are actively working to educate, inspire, and empower their readers with frequent updates and high-quality information."

36. Gerry Dawes's Spain: An Insider's Guide to Spanish Food, Wine, Culture and Travel
About Gerry Dawes
My good friend Gerry Dawes, the unbridled Spanish food and wine enthusiast cum expert whose writing, photography, and countless crisscrossings of the peninsula have done the most to introduce Americans—and especially American food professionals—to my country's culinary life." -- Chef-restaurateur-humanitarian José Andrés, Nobel Peace Prize Nominee and Oscar Presenter 2019
Gerry Dawes was the Producer and Program Host of Gerry Dawes & Friends, a weekly radio progam on
Pawling Public Radio
in Pawling, New York (streaming live and archived at www.pawlingpublicradio.org and at www.beatofthevalley.com.)
Dawes was awarded Spain's prestigious Premio Nacional de Gastronomía (National Gastronomy Award) in 2003. He writes and speaks frequently on Spanish wine and gastronomy and leads gastronomy, wine and cultural tours to Spain. He was a finalist for the 2001 James Beard Foundation's Journalism Award for Best Magazine Writing on Wine, won The Cava Institute's First Prize for Journalism for his article on cava in 2004, was awarded the CineGourLand "Cinéfilos y Gourmets" (Cinephiles & Gourmets) prize in 2009 in Getxo (Vizcaya) and received the 2009 Association of Food Journalists Second Prize for Best Food Feature in a Magazine for his Food Arts article, a retrospective piece about Catalan star chef, Ferran Adrià.
". . .That we were the first to introduce American readers to Ferran Adrià in 1997 and have ever since continued to bring you a blow-by-blow narrative of Spain's riveting ferment is chiefly due to our Spanish correspondent, Gerry "Mr. Spain" Dawes, the messianic wine and food journalist raised in Southern Illinois and possessor of a self-accumulated doctorate in the Spanish table. Gerry once again brings us up to the very minute. . ." - - Michael & Ariane Batterberry, Editor-in-Chief/Publisher and Founding Editor/Publisher, Food Arts, October 2009.
Pilot for a reality television series on wine, gastronomy, culture and travel in Spain.