* * * * *

"Las investigaciones gastronómicas son unas putadas, pero alguien tiene que hacerlas."
(Gastronomic research is Hell, but somebody has to do it.)


Paco Dovalo and Gerry Dawes eating percebes and drinking Cabaliero do Val, Paco's great Albariño
at Paco's Asociación de Bodegas Artesanas Feria de Vinos de Autor in Val de Salnés, Rías Baixas, Galicia.
As I normally do when I am taking someone around Spain, I arrive in the country a day or more earlier in order to get over jet lag and tie up any loose ends before the trip begins.

On Sunday, October 2, I arrived in Madrid's Barajas Terminal One, then took an Air Europa flight two hours later from Terminal Two from Madrid to Vigo in Galicia and Ole!, the Air Europa flight was a pleasant surprise. Air Europa, an economy airline, had comfortable seats and plenty of leg room on this one-hour, in-country flight (unlike the monumentally uncomfortable, no legroom, seven hour-plus Atlantic crossing on an American carrier).
After landing at the Vigo airport, I called Hertz Rental Car, who (in Spanish) gave me directions to the bowels of the airport garage where an employee was waiting to drive me to an off-airport site a quarter mile away. Hertz is rapidly becoming a rental car company to avoid for the average traveler. Too many off-airport or off-train station sites, like the one at Barcelona Sants train station, which is a nightmare during which you have to be a magician--or have already been there to figure out where to pick up and drop off the car. Other companies like Avis and National are usually on-site.
Alright, rants aside, most of them about the first day. I arrived in Galicia, got the car and was about to embark on a two-week adventure with Michael Chiarello, Chef-owner of Bottega Restaurant and Napa Style (a specialty item and imports food store, who products are available on-line) in Yountville, California.
Chef Michael Chiarello and Chef Ryan Mcilwaithe
in the port of Cambados on their first day, Galicia.
Photo by Gerry Dawes©2011 / gerrydawes@aol.com.
I left the airport, crossed the awesome bridge over the Río de Vigo, where thousands of bateas (anchored rafts for farming Galicia's famous shellfish) fill the broad estuary.
Just across the bridge, I exited the tollway and drove south towards Marín to find a town on the coast called Bueu and a place called Playa de Beluso, where my new-found friend, Javier Rioyo, Executive Director on the Instituto Cervantes in New York, told me I would find A Centoleira, a century-old fishermen's tavern turned restaurant. I found the place, but it was too early and the owner had not yet arrived, so I had my first tapas--deviled eggs and tuna empanada with Estrella Galicia draft beer--of the trip at the bar, then decided to push on to Cambados, check into my lodgings Hotel Rosita, then find lunch in Cambados.
After I checked in to Casa Rosita, I was tempted to stay there and try the well-regarded salpicón de mariscos (a melange of shellfish in a vinaigrette), but, since it was still early in the dining room of Casa Rosita's restaurant was still empty, instead I decided to set out to find a fishermen's quarter bar-restaurant I had heard about on an earlier trip.
I had been told that this bar served bi-valves that were harvested directly by the women licensed to collect shellfish at low tide off Cambados and that the bi-valves served there went straight to the restaurant without passing through the depurificacion plants, where they undergo several days of water changes before being released for sale. They were purported to have very natural, fresh-from-the-sea flavors.
Here I have to say that I have no verification that the restaurant in question serves such untreated bi-valves. I did not ask because I was tired and forgot to, but they would not have told me anyway, since serving such straight-from-the-wild oysters, clams, etc. is not exactly kosher.
Beach as low tide, Santo Tomé, the ancient fishing port barrio of Cambados (Pontevedra), Galicia. Photo by Gerry Dawes©2011 / gerrydawes@aol.com.
I made a couple of passes by the fishing port and saw two restaurants, but neither looked to be the storied place that I sought, so I drove up into the narrow streets of the old Santo Tomé fishermen's quarter and parked my car alongside a plaza that had a house whose façade was completely covered in scallop shells.
Scallop shells as decorative siding on a house in
Santo Tomé
, the old fishing port of Cambados.
Photo by Gerry Dawes©2011 / gerrydawes@aol.com.
Then up a side street, I saw a sign that said "Ostras (oysters) - Bar Pintos" and pointed in the direction of the restaurant. Down the street a hundred feet was a nondescript building of recent vintage, but the cooking smells emitting from the spot and the sounds of diners inside sounded promising.
Bar Pintos in Santo Tomé, the ancient fishing port barrio of Cambados (Pontevedra), Galicia.
Photo by Gerry Dawes©2011 / gerrydawes@aol.com.
I climbed the half-flight of stairs and entered a simple, clean dining room with a few tables filled. I was seated by Mari Carmen one of the two sisters--MariaTeresa is the other--and given a plastic covered menu that consisted mostly of quite inexpensive seafood items.
Oysters, Galicia.
Photo by Gerry Dawes©2011 / gerrydawes@aol.com.
Of course, I had to try a half-dozen raw oysters with the house's (and only) own Albariño, then a square of tuna empanada and a vieira (a baked scallop with onion and bread crumbs). Mari Carmen and Maria Tere took me into their kitchen and showed me plates of beberechos (cockles), navajas (razor clams), nécoras (small crabs), camarones (small shrimp) and zamburiñas (small scallops, still with their coral).
Maria Tere y Mari Carmen Pintos DaPorta at Bar Pintos, Barrio de Santo Tomé, Cambados,
with a lineup of the day's specialties:
cigalas,
beberechos,
zamburiñas,
navajas,
nécoras
, and
camarones
.
Photo by Gerry Dawes©2011 / gerrydawes@aol.com.
Tomorrow, I thought this would be the perfect casual place to introduce Chefs Chiarello and McIlwaith, both just off long plane trips from California. They will be tired, but hungry. An inexpensive, but delicious lunch at Bar Pintos, then a siesta at Casa Rosita would be the best way to get them started. I paid the bill and drove back to Casa Rosita, where I decided to have their
salpicón de mariscos and a beer before heading up for my own siesta. They wouldn't sell me a half raci
ón, even though I was booked into the hotel for three nights, so I opted for a whole portion, ate about half of it and went up for a nap. I have had many other better versions of this dish (one of my favorites), most notably at Casa Rafa in Madrid and at Restaurante Mirador de Doñana and Casa Bigote, both in
Sanlúcar de Barrameda.
Salpicón de mariscos seafood melange in a vinaigrette), Casa Rosita Hotel Restaurante.
Photo by Gerry Dawes©2011 / gerrydawes@aol.com.
A couple of hours later, I awoke to go to the bathroom and either a bad oyster and something in the
salpicón
--the lukewarm oysters, number three of six I suspect as the culprit--hit me full force and I spent the better part of the next three hours worshipping off-and-on, off-and-on at the ivory throne, sometimes clinging to cold porcelain projective vomiting and telling myself how glad I was to be back in Spain again.
But a bad piece of shellfish was not going to stop me. I still planned to take Chiarello and McIlwiath to Casa Pintos the next day. I just didn't intend to eat oysters or let them eat them. Why would I go back to Casa Pintos? Because a bad oyster is a bad oyster. I got one in a oyster dish once at Sign of the Dove in New York (That was an adventure involving the George Washington Bridge and the woods off the Palisades Parkway in New Jersey!). My ex-wife got one at the Oyster Bar at Grand Central and I got a bad piece of shellfish at one of my favorite restaurants in Sanlúcar de Barrameda and something worse in Burgundy. This happens during the course of in-depth gastronomic research and it can be Hell, but as they say "somebody has to do it." Mercifully, over more than forty years of traveling, eating and drinking in Spain, it has not happened that often.
Stay tuned, this was just Day Zero!
Shall deeds of Caesar or Napoleon ring
More true than Don Quixote's vapouring?
Hath winged Pegasus more nobly trod
Than Rocinante stumbling up to God?
Poem by Archer M. Huntington inscribed under the Don Quixote on his horse Rocinante bas-relief sculpture by his wife, Anna Vaughn Hyatt Huntington,
in the courtyard of the Hispanic Society of America's incredible museum at 613 W. 155th Street, New York City.
________________________________________________________________________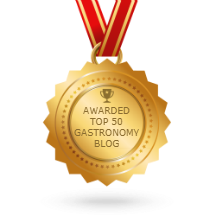 About Gerry Dawes
My good friend Gerry Dawes, the unbridled Spanish food and wine enthusiast cum expert whose writing, photography, and countless crisscrossings of the peninsula have done the most to introduce Americans—and especially American food professionals—to my country's culinary life." -- Chef-restaurateur-humanitarian José Andrés, Nobel Peace Prize Nominee and Oscar Presenter 2019
Gerry Dawes's Spain selected as
#38/50 Top Gastronomy Blogs
Gerry Dawes is the Producer and Program Host of Gerry Dawes & Friends, a weekly radio progam on Pawling Public Radio
in Pawling, New York (streaming live and archived at www.pawlingpublicradio.org and at www.beatofthevalley.com.)
Dawes was awarded Spain's prestigious Premio Nacional de Gastronomía (National Gastronomy Award) in 2003. He writes and speaks frequently on Spanish wine and gastronomy and leads gastronomy, wine and cultural tours to Spain. He was a finalist for the 2001 James Beard Foundation's Journalism Award for Best Magazine Writing on Wine, won The Cava Institute's First Prize for Journalism for his article on cava in 2004, was awarded the CineGourLand "Cinéfilos y Gourmets" (Cinephiles & Gourmets) prize in 2009 in Getxo (Vizcaya) and received the 2009 Association of Food Journalists Second Prize for Best Food Feature in a Magazine for his Food Arts article, a retrospective piece about Catalan star chef, Ferran Adrià.
Photo by
Hernan Ronnie Rodriguez, JBF Awards 2014.
". . .That we were the first to introduce American readers to Ferran Adrià in 1997 and have ever since continued to bring you a blow-by-blow narrative of Spain's riveting ferment is chiefly due to our Spanish correspondent, Gerry "Mr. Spain" Dawes, the messianic wine and food journalist raised in Southern Illinois and possessor of a self-accumulated doctorate in the Spanish table. Gerry once again brings us up to the very minute. . ." - - Michael & Ariane Batterberry, Editor-in-Chief/Publisher and Founding Editor/Publisher, Food Arts, October 2009.
Pilot for a reality television series on wine, gastronomy, culture and travel in Spain.