On my first entry into Sevilla I was uninformed about Sevilla, its history and its origins. I was just a newly arrived American Navyman on his first trip to a foreign country, so I took little note of some the monumental churches along calle San Luís, some of whose foundations date to almost a millennium ago.
Plaque on the church of Santa Marina denoting the route of Mudéjar churches in Sevilla. The Islamic Art in the Mediterranean subtitle is a Freudian slip. Although Sevilla is a city much closer to the Atlantic Ocean than to the Mediterranean, the weather is influened by both bodies of water. The climate is very Mediterranean and hot in summer, but in winter the Atlantic influence takes over and Sevilla can be quite chilly. But, there is no doubt that visitors to Sevilla can easily believe they are in a Mediterranean city.
The next church along the calle San Luís is the church of Santa Marina, which was one of the first parishes established in this populous district after the Reconquest of Sevilla in 1248 by Fernando III. It is one of the oldest Gothic-Mudéjar churches in the city, dating its construction to 1262 under the reign of Fernando's son Alfonso X el Sabio. Though there is some polemic about this; it is claimed by many scholars not to have been built on the site of mosque even though there was supposedly a mosque built here in the 10th century.
Looking at tower, the uninitiated visitor could easily assume that Santa Marina, like several other churches in Sevilla was built over a mosque, since the tower is of Mudéjar construction and could easily be mistaken for the minaret of a long-disappeared mosque. However, it was not unusual for Moorish craftsmen working under Christian rule—Mudejares—to build structures that spoke of Islam, not unusual since even their Christian conquerors had long been used to seeing Islamic architecture and not only that, many of them had an appreciation for the aesthetics of such buildings. Thus it was natural for them to retain such structures as La Giralda, the minaret tower of Sevilla's main mosque. It was functional, attractive and it cost much, much less to leave standing that it did to build a towering new structure.
Built with bricks, favored by Mudéjar builders, the square tower of Santa Marina could easily be mistaken for an minaret, especially since arched openings

adorn the façade

and crenelated top typical of the Moorish Almohade style tops the bell tower.
In the case of Santa Marina, not only was the tower built in the early 14th century in the Mudéjar style resembling a minaret, the church and tower were was destroyed by a powerful earthquake and rebuilt in the same style in the mid-to-later 14th century under Pedro I (the Cruel), who ordered numerous structures around Spain built by Mudéjar builders and craftsmen, including the Palace in the Alcázar and the exquisite Mudéjar palace in Tordesillas that he built for his favorite Maria de Padilla and has since become incorporated into the Convento de Santa Clara.
Convento de Santa Clara, Tordesillas, built as a palace by Pedro I de Castilla (Pedro the Cruel).
Interior of the Convento de Santa Clara, Tordesillas, built as a palace by Pedro I de Castilla (Pedro the Cruel).
Azulejos, tiles in the interior of

the Convento de Santa Clara, Tordesillas, built as a palace by Pedro I de Castilla (Pedro the Cruel).
Detail of
azulejos
, tiles in the interior of
the Convento de Santa Clara, Tordesillas, built as a palace by Pedro I de Castilla (Pedro the Cruel). The tiles are identical to the tiles in the palacio of the Real
Alcázar of Sevilla, also built by Pedro I de Castilla.

Text and photographs copyright by Gerry Dawes©2021. Using photographs without crediting Gerry Dawes©2021 on Facebook. Publication without my written permission is not authorized.
* * * * *
(Available at Amazon, Despana (NYC), LaTienda.com, La Boca Restaurant (Santa Fe, NM) and at Kitchen Arts & Letters bookstore (NYC).
Comments are welcome and encouraged.
Shall deeds of Caesar or Napoleon ring
More true than Don Quixote's vapouring?
Hath winged Pegasus more nobly trod
Than Rocinante stumbling up to God?
Poem by Archer M. Huntington inscribed under the Don Quixote on his horse Rocinante bas-relief sculpture by his wife, Anna Vaughn Hyatt Huntington,
in the courtyard of the Hispanic Society of America's incredible museum at 613 W. 155th Street, New York City.
_________
_____________________________________________________________________________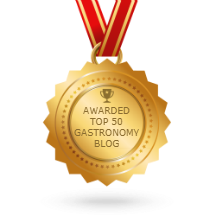 A

gain ranked in the Top 50 Gastronomy Blogs and Websites for Gastronomists & Gastronomes by Feedspot. (Last Updated October, 2019)
"
The Best Gastronomy blogs selected from thousands of Food blogs, Culture blogs and Food Science blogs in our index using search and social metrics. We've carefully selected these websites because they are actively working to educate, inspire, and empower their readers with frequent updates and high-quality information."

36. Gerry Dawes's Spain: An Insider's Guide to Spanish Food, Wine, Culture and Travel
About Gerry Dawes
My good friend Gerry Dawes, the unbridled Spanish food and wine enthusiast cum expert whose writing, photography, and countless crisscrossings of the peninsula have done the most to introduce Americans—and especially American food professionals—to my country's culinary life." -- Chef-restaurateur-humanitarian José Andrés, Nobel Peace Prize Nominee and Oscar Presenter 2019
Gerry Dawes is the Producer and Program Host of Gerry Dawes & Friends, a weekly radio progam on
Pawling Public Radio
in Pawling, New York (streaming live and archived at www.pawlingpublicradio.org and at www.beatofthevalley.com.)
Dawes was awarded Spain's prestigious Premio Nacional de Gastronomía (National Gastronomy Award) in 2003. He writes and speaks frequently on Spanish wine and gastronomy and leads gastronomy, wine and cultural tours to Spain. He was a finalist for the 2001 James Beard Foundation's Journalism Award for Best Magazine Writing on Wine, won The Cava Institute's First Prize for Journalism for his article on cava in 2004, was awarded the CineGourLand "Cinéfilos y Gourmets" (Cinephiles & Gourmets) prize in 2009 in Getxo (Vizcaya) and received the 2009 Association of Food Journalists Second Prize for Best Food Feature in a Magazine for his Food Arts article, a retrospective piece about Catalan star chef, Ferran Adrià.
". . .That we were the first to introduce American readers to Ferran Adrià in 1997 and have ever since continued to bring you a blow-by-blow narrative of Spain's riveting ferment is chiefly due to our Spanish correspondent, Gerry "Mr. Spain" Dawes, the messianic wine and food journalist raised in Southern Illinois and possessor of a self-accumulated doctorate in the Spanish table. Gerry once again brings us up to the very minute. . ." - - Michael & Ariane Batterberry, Editor-in-Chief/Publisher and Founding Editor/Publisher, Food Arts, October 2009.
Pilot for a reality television series on wine, gastronomy, culture and travel in Spain.