* * * * *
Janet Mendel at Dos Palillos restaurante, Barcelona. Photograph by

Gerry Dawes

.
Janet Mendel has lived in the village of Mijas (Málaga), Spain for more than 50 years. I first met her when I lived in Mijas for three years and ran The Dawes Gallery of Contemporary Art in the mid-1970s and have visited her at her lovely hillside home set among her olive trees a few kilometers west of the village. Janet Mendel is a highly respected writer who has published nearly a dozen books* on the food and cooking of Spain.

She wrote me today about my book Sunset in a Glass: Adventures of a Food and Wine Road Warrior in Spain Volume I Enhanced Photograph Edition, Foreword by José Andrés.

"Congratulations! What a feat, to write and publish this book, Sunset in a Glass. It's packed with fascinating stories about people and places in the country we both love. I learned a lot--Asturian cheeses, the insider's look at Vega Sicilia. . .

You write so well about the personalities along the food and wine trail. I enjoyed reading about Quim (Marquez, Quim de la Boqueria) and Javier Hidalgo (of the Manzanilla sherry family), Marino Gonzalez (the padrino of artisan Asturian cheeses) and Ambrosio (Ambrosio Molinos, the late legendary cheesemaker and gourmand from the Ribera del Duero). Through them you create evocative views of their patrias chicas that inflect the food and wine. Your photos add a lot.

I also liked reading your backstory and wished for more! How you got to be Gerry Dawes, the road warrior. Some chronology would help to tie the disparate stories together. A little about what you did to make a living in the U.S. (wine merchant?) and what led to your returning to Spain on a regular basis?"

Volume II is on its way, Janet, a few more months. Paciencia, paciencia, all will be revealed.
Janet Mendel in her kitchen
Mijas (Málaga), Spain

. Photograph by

Gerry Dawes

.

*Books by Janet Mendel.

Tapas, a bite of Spain (Santana Books, 2008)

Traditional Spanish Cooking (Frances Lincoln, 2006)

Cooking from the heart of Spain: Food of La Mancha (William Morrow Cookbooks, 2006)

Mi Kitchen in Spain. 225 Authentic Regional Recipes (Harper Collins Publisher, 2002)

Shopping for food and wine in Spain (Santana Books, 1998)

Tapas and More Great Dishes of Spain (Santana Books, 1997)

Traditional Spanish Cooking (Garnet Publishing, 1996)

The best of cooking in Spain (Santana Books, 1996)

Cooking in Spain (Lookout Publications.

Photo: Janet Mendel at Dos Palillos restaurante, Barcelona. Photograph by Gerry Dawes. #food #writer #spain
* * * * *

Sunset in a Glass: Adventures of a Food and Wine Road Warrior in Spain Volume I Enhanced Photograph Edition,
Foreword by José Andrés.
Sunset in a Glass: Adventures of a Food and Wine Road Warrior Volume I (of IV) is a collection of non-fiction stories about the adventures of recognized Spanish food, wine and travel authority Gerry Dawes, recipient of the prestigious Spanish National Gastronomy Prize. Sunset in a Glass is illustrated with more than 150 color and black-and-white photographs chronicling adventures from decades of living and traveling in Spain. Foreword by José Andrés.

Constructive comments are welcome and encouraged.
If you enjoy these blog posts, please consider a contribution to help me continue the work of gathering all this great information and these photographs for Gerry Dawes's Insider's Guide to Spanish Food, Wine, Culture and Travel. Contributions of $5 and up will be greatly appreciated. Contributions of $100 or more will be acknowledged on the blog. Please click on

this secure link to Paypal

to make your contribution.
Text and photographs copyright by Gerry Dawes©2021. Using photographs without crediting Gerry Dawes©2021 on Facebook. Publication without my written permission is not authorized.
Shall deeds of Caesar or Napoleon ring
More true than Don Quixote's vapouring?
Hath winged Pegasus more nobly trod
Than Rocinante stumbling up to God?
Poem by Archer M. Huntington inscribed under the Don Quixote on his horse Rocinante bas-relief sculpture by his wife, Anna Vaughn Hyatt Huntington,
in the courtyard of the Hispanic Society of America's incredible museum at 613 W. 155th Street, New York City.
_________________________________________________________________________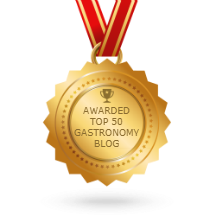 In 2019, again ranked in the Top 50 Gastronomy Blogs and Websites for Gastronomists & Gastronomes in 2019 by Feedspot. (Last Updated Oct 23, 2019)
"
The Best Gastronomy blogs selected from thousands of Food blogs, Culture blogs and Food Science blogs in our index using search and social metrics. We've carefully selected these websites because they are actively working to educate, inspire, and empower their readers with frequent updates and high-quality information."

36. Gerry Dawes's Spain: An Insider's Guide to Spanish Food, Wine, Culture and Travel
About Gerry Dawes
My good friend Gerry Dawes, the unbridled Spanish food and wine enthusiast cum expert whose writing, photography, and countless crisscrossings of the peninsula have done the most to introduce Americans—and especially American food professionals—to my country's culinary life." -- Chef-restaurateur-humanitarian José Andrés, Nobel Peace Prize Nominee and Oscar Presenter 2019
Gerry Dawes is the Producer and Program Host of Gerry Dawes & Friends, a weekly radio progam on
Pawling Public Radio
in Pawling, New York (streaming live and archived at www.pawlingpublicradio.org and at www.beatofthevalley.com.)
Dawes was awarded Spain's prestigious Premio Nacional de Gastronomía (National Gastronomy Award) in 2003. He writes and speaks frequently on Spanish wine and gastronomy and leads gastronomy, wine and cultural tours to Spain. He was a finalist for the 2001 James Beard Foundation's Journalism Award for Best Magazine Writing on Wine, won The Cava Institute's First Prize for Journalism for his article on cava in 2004, was awarded the CineGourLand "Cinéfilos y Gourmets" (Cinephiles & Gourmets) prize in 2009 in Getxo (Vizcaya) and received the 2009 Association of Food Journalists Second Prize for Best Food Feature in a Magazine for his Food Arts article, a retrospective piece about Catalan star chef, Ferran Adrià.
". . .That we were the first to introduce American readers to Ferran Adrià in 1997 and have ever since continued to bring you a blow-by-blow narrative of Spain's riveting ferment is chiefly due to our Spanish correspondent, Gerry "Mr. Spain" Dawes, the messianic wine and food journalist raised in Southern Illinois and possessor of a self-accumulated doctorate in the Spanish table. Gerry once again brings us up to the very minute. . ." - - Michael & Ariane Batterberry, Editor-in-Chief/Publisher and Founding Editor/Publisher, Food Arts, October 2009.
Pilot for a reality television series on wine, gastronomy, culture and travel in Spain.