* * * * *
An article published several years ago in Food & Wine (Note: Some of the restaurants are now closed.)
American chefs often come back from trips to Spain sounding this refrain: "I didn't like most of the Michelin-starred places, but I had the most incredible roast suckling lamb at a tiny restaurant in the middle of nowhere." When they aren't raving about the lamb, they're praising the grilled seafood, the stewed rabbit, the gazpacho, the charcuterie or some other local specialty.
I'm with them. After several years of trying nueva cocina (nouvelle cuisine) in the big cities, I am convinced that Spain's best food is served at traditional regional restaurants in the countryside, where quality is a bigger priority than novelty. With that in mind, here are three short gastronomic excursions: from Madrid, from Seville and from Barcelona. Each includes visits to cultural destinations like the Dalí museum, gorgeous drives, overnight stays in paradors (government-owned hotels) and stops at top wineries.
From Madrid: Castile and Rioja
Suckling Lamb, Red Wine and El Cid's Hometown
Day 1 Travel north from Madrid until you see a billboard that reads Aranda de Duero, Vino y Cordero. Aranda de Duero is the town; vino is wine (such as Vega-Sicilia, Spain's most expensive and renowned red, and Pesquera, the new star, which has been compared to Château Pétrus); and cordero is supernal suckling lamb, roasted whole in brick ovens with nothing but water and coarse salt. Aranda has a dozen asadores, or roast houses, and they have been the object of many a modern pilgrimage.
If you get to this market town by noon, you'll have time to see the Plaza Mayor and the 15th-century Isabeline church of Santa María before heading to Rafael Corrales (2 Carrequemada; 011-34-947-50-02-77) for a lunch of chorizo, morcilla con pimientos (blood sausage with red peppers) and, of course, roast lamb.
Afterward, head north to Burgos, then east along the road that follows the medieval pilgrimage path to Rioja, the great wine district. Your destination is the town of Santo Domingo de la Calzada. Check into the Parador de Santo Domingo de la Calzada (3 Plaza del Santo; 011-34-941-34-03-00; fax 011-34-941-34-03-25), a former hospice for pilgrims. Across the plaza is a cathedral, where a caged cock and hen commemorate a legend from the Middle Ages with a surprise twist. The story: a judge sentenced a young man to be hanged, but miraculously, though strung from the gallows, the prisoner did not die. When his family pointed this out, the judge said, "That boy is as dead as these roast chickens I am about to eat," at which point the birds rose from the platter and began running around.
A few miles south, at the gates of the imposing Sierra de la Demanda, is the mountain village of Ezcaray and the remarkable Hostal Echauren (2 Héroes de Alcázar; 011-34-941-35-40-47). I'm especially fond of the perdiz con peras como la hacía mi madre (partridge "like my mother made," cooked in red wine and served with wine-steeped pears). The wine list is full of reasonably priced bottles, from a pale and lovely local rosado to a fine stash of such gran reservas as the 1987 Monte Real from Bodegas Riojanas.
Day 2 Drive northeast to Haro, the wine trade capital of the prime Rioja Alta district, and the Barrio de la Estación, an extraordinary enclave of Rioja's top wineries, called bodegas. In this small area are CVNE (Compañía Vinícola del Norte de España), López de Heredia, La Rioja Alta and Bodegas Bilbaínas, all a century old, as well as Muga, a brilliant 60-year-old newcomer.
After touring the wineries, stop for lunch at Terete (17 Lucrecia Arana; 011-34-941-31-00-23). Everyone in the wine trade who has ever visited Haro has had at least one meal at the scrubbed communal picnic tables here, feasting on such splendid dishes as roast lamb and menudillos de cordero con huevo al horno, a casserole of lamb giblets and egg.
Poke through the villages of San Vicente de la Sonsierra and Laguardia for a few hours, then return to Haro's Los Agustinos (2 San Agustín; 011-34-941-31-13-08; fax 011-34-941-30-31-48), an excellent hotel in a renovated 600-year-old Augustinian convent.
Day 3 Turn southwest to Burgos, the capital of Old Castile and hometown of El Cid, the 11th-century warrior who is Spain's national hero. The town has a superb Gothic cathedral and one of the best preserved and most bustling old quarters in Spain. In addition to the ubiquitous lamb, taverns like El Mesón del Cid (Plaza Santa María; 011-34-947-20-87-15) serve the famous Queso de Burgos (a sheep's milk cheese beloved by Gertrude Stein), roast suckling pig, Arlanza River trout (a Hemingway favorite), cecina (air-cured beef "ham") and excellent little red alubias (beans) from the nearby town of Ibeas.
The great luxury hotel in Burgos is the Landa Palace (Madrid­Irún Road; 011-34-947-20-63-43; fax 011-34-947-26-46-76), but I prefer to go there for lunch or dinner at its marvelous restaurant and to stay at the more modest but centrally located Fernán González (17 Calera; 011-34-947-20-94-41; fax 011-34-947-27-41-21). The drive from Burgos back to Madrid is less than three hours.
Fisherman's Stew, Sherry and Matadors
Day 1 Drive south from Seville to Jerez de la Frontera, the capital of the sherry district. Schedule a tour of the historic working museum at the old winery of González Byass (12 Manuel María González; 011-34-956-35-70-00; fax 011-34-956-35-70-46), producers of Tío Pepe.
A 20-minute journey west will bring you to Sanlúcar de Barrameda, where lunch on the beach at Bar Bigote (Bajo de Guía beach; 011-34-956-36-26-96) is absolutely essential. Bigote serves only fish caught the previous day and those only through lunchtime. When the weatheris bad and the fleet stays in port, the restaurant closes. Its fisherman's stews are legendary, especially the huevo marinero, a casserole of shrimp, monkfish and Manzanilla brought out bubbling with a just-cracked egg on top.
After a lunch that can stretch out until 6 p.m. (if you can, stick around to see the sunset), head east to the town of Arcos de la Frontera,home of the Parador de Arcos de la Frontera (Plaza del Cabildo; 011-34-956-70-05-00; fax 011-34-956-70-11-16), which perches on the edge of a steep cliff. End the day at El Convento (7 Marqués de Torresoto; 011-34-956-70-32-22) with choco con patatas (squid with potatoes), conejo del campo (wild rabbit) and local cheeses served with nuts and mountain honey.
Day 2 After strolling around Arcos, move on to El Bosque, which is in the foothills of the wild Sierra de Grazalema and is famous for trout. Casa Calvillo (Plaza El Anden; 011-34-956-71-60-10) is a nice place for a lunch of gazpacho, berenjenas fritas (deep-fried eggplant) and the house specialty, fresh trout with a slice of Serrano ham tucked in its belly.
Travel to Ronda, driving over curvy backcountry roads through cork forests and stopping at the ancient white villages of Ubriqueand Grazalema, mountain hideaways that were once refuges for bandits and muleteers.Check into the Parador de Ronda (Plaza de España; 011-34-95-287-75-00; fax 011-34-95-287-81-88), then head for dinner at Pedro Romero (18 Virgen de la Paz; 011-34-95-287-11-10).
The restaurant, across from the ancient Plaza de Toros, is covered with photos and posters chronicling the heroics of such Rondeño bullfighters as Cayetano Ordoñez (whom Hemingway immortalized in The Sun Also Rises), his son, Antonio Ordoñez (considered to be the greatest matador ever) and Francisco Rivera Ordoñez (the current sensation). The kitchen produces excellent ajo blanco (a white gazpacho, made with almonds and garlic) and conejo estofado (rabbit stewed in a saffron-scented sauce). On my last visit, I was pleased that my 1991 Chivite Reserva Tinto from Navarra was served--correctly--at cellar rather than room temperature.
Day 3 Explore Ronda's old quarter, across a bridge straddling a crevice over 300 feet deep. Leave for Seville by late morning, via the unusual town of Setenil, where many of the houses are built into the overhang of a deep gorge. Seville is about a two-hour drive away.
From Barcelona: Catalonia
Clams, Cava and the Costa Brava
Day 1 West of Barcelona you'll find Villafranca del Penedés, famed for its cava (sparkling wine). Stop at the Miguel Torres winery (22 Comercio; 011-34-93-817-74-00; fax 011-34-93-817-74-44; call Louise Compte Kelly to arrange a visit) and the Museo del Vino, or wine museum (Plaza San Jaume I; 011-34-93-890-05-82). Save time for the modernist cava
cellars and museum at Codorníu (Avenida Jaume Codorníu; 011-34-93-818-32-32; fax 011-34-93-891-08-22), outside San Sadurní d'Anoia. El Mirador de las Caves (San Sadurní­ l'Ordal Road; 011-34-93-899-31-78), with stunning vineyard views, is a good spot for lunch.
Head north to Vic, where the Parador de Vic (Paraje el Bac de Sau; 011-34-93-812-23-23; fax 011-34-93-812-23-68) overlooks the awesome Sau Valley, now dammed up and flooded to form a massive lake. Ten minutes down a rough cement road is the humble but wonderful Fussimanya (Tavènoles-Osona; 011-34-93-812-21-88), which produces its own charcuterie on the premises. When I was there most recently, the owner brought me a knife and a cutting board with a half-dozen sausages, including bull (a boiled sausage made with offal), cooked black-and-white botifarra and the irresistible thin, salami-like fuet. I followed these with a fine escalivada (roasted Mediterranean vegetables), a beautiful golden grilled rabbit served with all-i-oli (Spanish aioli) and then a classic crema catalana for dessert. I had a glass of cava before dinner and a bottle of a fresh, quaffable 1995 Maises d'Avinyo Merlot from the local Pla de Bages region. My meal came to about $20 with wine and tip.
Day 2Drive an hour to the town of Begur-Aiguablava on the Costa Brava, Spain's rugged northeastern coast, which reminds me of California's Big Sur. Check into the villa-style Hotel Aiguablava (Playa de Fornells; 011-34-972-62-20-58; fax 011-34-972-62-21-12) or the modern Parador de Aiguablava (Playa de Aiguablava; 011-34-972-62-21-62; fax 011-34-972-62-21-66); the two face each other across a small cove. You can sun on the small beach or swim off the rock platform. Have dinner in the genteel beach town of Llafranc, a well-kept secret just a few miles from Aiguablava. At Llevant (5 Francesc de Blanes; 011-34-972-30-03-66), the upscale cuisine includes albóndigas con sepia (cuttlefish meatballs) and rodaballo (turbot), prepared here with olives, capers and sea salt.
Day 3 Get an early start to beat the lines at the Teatro-Museo Dalí (Plaza Gala-Salvador Dalí) in Figueres, the most visited museum in Spain after the Prado. Tour Dalí's home and studio at Port Lligat, just outside the artists' village of Cadaqués.
A few miles from Cadaqués, near Roses, is El Bulli (Cala Montjoi; 011-34-972-15-04-57), a Michelin three-star restaurant that is the domain of Ferran Adria, the Salvador Dalí of modern Catalan cuisine. His way-out food will either convince you that he is a genius or send you fleeing to the kind of regional cuisine found in L'Escala, a neighboring fishing and resort town.
L'Escala's La Punta (4 Paseo Doctor Isern) and La Cala (3 Paseo Doctor Isern) look like hamburger joints, with their plastic Coca-Cola tables and Sprite and Carte d'Or beach umbrellas; but for the tables scattered willy-nilly at the water's edge, one might pass them by. French families on holiday drink chilled rosat, a Catalan rosé; Dutch tourists in bathing suits dive into the water. The scene is enchanting.
At La Punta, start with a bottle of cherry-red Penedés rosat, the 1996 Raventos i Blanc l'Hereu, then proceed to the anchoas (anchovies cured in oil) and sharp boquerones en vinagre (fresh anchovies marinated seviche-like in vinegar). Also exquisite are grilled sardines, sepietas (sepia squid) and navajas (razor clams). If you're sitting at one of the tables nearest the water, the waves will splash your feet and Barcelona will seem far away. After lunch take in the Greek and Roman ruins at Empúries.
Day 4 On the two-hour drive back to the Barcelona, you can stop in San Celoni for lunch at El Racó de Can Fabes (6 Sant Joan; 011-34-93-867-28-51; fax 011-34-93-867-38-61), a cutting-edge Michelin three-star restaurant. Here you can sample dishes on the order of pigeon cooked in Udine grappa with cardamom. Chef Santi Santamaría's food is so good that it may convince you to break off your love affair with regional cooking. But somehow, I don't think so.
GERRY DAWES has been traveling the food and wine roads of Spain for 25 years. He is currently researching and writing Homage to Iberia, inspired by the late James A. Michener's Iberia.
* * * * *
Comments are welcome and encouraged.
Text and photographs copyright by Gerry Dawes©2021. Using photographs without crediting Gerry Dawes©2021 on Facebook. Publication without my written permission is not authorized.
Shall deeds of Caesar or Napoleon ring
More true than Don Quixote's vapouring?
Hath winged Pegasus more nobly trod
Than Rocinante stumbling up to God?
Poem by Archer M. Huntington inscribed under the Don Quixote on his horse Rocinante bas-relief sculpture by his wife, Anna Vaughn Hyatt Huntington,
in the courtyard of the Hispanic Society of America's incredible museum at 613 W. 155th Street, New York City.
_______________________________________________________________________________________________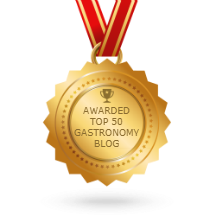 In 2019, again ranked in the Top 50 Gastronomy Blogs and Websites for Gastronomists & Gastronomes in 2019 by Feedspot. (Last Updated Oct 23, 2019)
"
The Best Gastronomy blogs selected from thousands of Food blogs, Culture blogs and Food Science blogs in our index using search and social metrics. We've carefully selected these websites because they are actively working to educate, inspire, and empower their readers with frequent updates and high-quality information."

36. Gerry Dawes's Spain: An Insider's Guide to Spanish Food, Wine, Culture and Travel
About Gerry Dawes
My good friend Gerry Dawes, the unbridled Spanish food and wine enthusiast cum expert whose writing, photography, and countless crisscrossings of the peninsula have done the most to introduce Americans—and especially American food professionals—to my country's culinary life." -- Chef-restaurateur-humanitarian José Andrés, Nobel Peace Prize Nominee and Oscar Presenter 2019
Gerry Dawes is the Producer and Program Host of Gerry Dawes & Friends, a weekly radio progam on
Pawling Public Radio
in Pawling, New York (streaming live and archived at www.pawlingpublicradio.org and at www.beatofthevalley.com.)
Dawes was awarded Spain's prestigious Premio Nacional de Gastronomía (National Gastronomy Award) in 2003. He writes and speaks frequently on Spanish wine and gastronomy and leads gastronomy, wine and cultural tours to Spain. He was a finalist for the 2001 James Beard Foundation's Journalism Award for Best Magazine Writing on Wine, won The Cava Institute's First Prize for Journalism for his article on cava in 2004, was awarded the CineGourLand "Cinéfilos y Gourmets" (Cinephiles & Gourmets) prize in 2009 in Getxo (Vizcaya) and received the 2009 Association of Food Journalists Second Prize for Best Food Feature in a Magazine for his Food Arts article, a retrospective piece about Catalan star chef, Ferran Adrià.
". . .That we were the first to introduce American readers to Ferran Adrià in 1997 and have ever since continued to bring you a blow-by-blow narrative of Spain's riveting ferment is chiefly due to our Spanish correspondent, Gerry "Mr. Spain" Dawes, the messianic wine and food journalist raised in Southern Illinois and possessor of a self-accumulated doctorate in the Spanish table. Gerry once again brings us up to the very minute. . ." - - Michael & Ariane Batterberry, Editor-in-Chief/Publisher and Founding Editor/Publisher, Food Arts, October 2009.
Pilot for a reality television series on wine, gastronomy, culture and travel in Spain.