* * * * *
Sunset in a Glass: Adventures of a Food and Wine Road Warrior Volume I (of IV), with the Foreword by José Andrés, is a collection of non-fiction stories about the adventures of recognized Spanish food, wine and travel authority Gerry Dawes, recipient of the prestigious Spanish National Gastronomy Prize. Sunset in a Glass is illustrated with more than 150 color and black-and-white photographs chronicling adventures from decades of living and traveling in Spain.

This book is perfect for armchair travelers deprived of their ability to travel because of the COVID pandemic and those undergoing Spain withdrawal. Sunset in a Glass is a great holiday gift for those who love travel, adventure, Spain and Spanish food and wine.


The stories in this Sunset in a Glass are from decades of crisscrossing Spain accumulating adventures with the likes of José Andrés, Anthony Bourdain, James Earl Jones, Kenneth Tynan, Keith Hernandez, Thomas Keller, Ferran Adria, top chefs and restaurateurs, star winemakers and down home artisan wine producers, professional Ibérico ham carvers, bullfighters, flamenco artists, friends of Ernest Hemingway and a marvelous collection of women in Spain.

"Gerry Dawes, the unbridled Spanish food and wine enthusiast cum expert whose writing, photography, and countless crisscrossings of the peninsula have done the most to introduce Americans—and especially American food professionals—to my country's culinary life. He has connected with all manner of people working at every level and in every corner of Spain. You can step into a restaurant in the smallest town in Spain, and it turns out they know Gerry somehow."—José Andrés, chef-restaurateur-humanitarian, Nobel Prize nominee.

"In his decades of wandering the back roads of Spain Gerry Dawes has built up a much stronger bank of experiences than I had to rely on when I started writing Iberia...His adventures far exceeded mine in both width and depth."—James A. Michener, author of Iberia: Spanish Travels and Reflections.

Before the golden age of food travel media, and long before Spain became the world's most exciting food destination, there was Gerry Dawes. A walking (and eating) encyclopedia of Spanish food and culture—from tapas to the culinary innovators, from artisan winemakers and cheesemakers to the sites only the locals know—Gerry has chronicled them all. Like few
others, he continues to inspire and inform a generation of food writers, travelers and chefs like me."—Dan Barber, Chef-owner, Blue Hill New York and Blue Hill at Stone Barns, author of The Third Plate: Field Notes on the Future of Food.

"Thanks for your artistry. If I had not seen your photography, I would not have known you as well." —James Earl Jones, during The Great White Hope filming in Barcelona.

"Gerry Dawes has lived, analysed, argued, savoured, prodded, tested, teased and loved his way through Spain's extraordinary gastronomic heritage for decades. Food as friendship is at the core of this wild, passionate road trip through Spain. This is a masterclass in storytelling - delicious and addictive."—Gijs van Hensbergen, Guernica: The Biography of a Twentieth-Century Icon and Gaudí: A Biography.

"Prowling through the bodegas, tapas bars, and markets of Spain with Gerry Dawes is an educational experience, sure, but more than that it's an inside look at one of the world's great gastronomic cultures, and more than that, it's just a whole lot of fun. Gerry knows almost anyone you'd want to know in this delicious world, and those he doesn't know, once he meets
them, aren't strangers for long. Sunset in a Glass will give you a tantalizing taste of the experience."—Colman Andrews, author of Catalan Cuisine, co-founder of Saveur.

"Spain wouldn't be as known to Americans without the stories Gerry tells and writes."—Chef Ferran Adrià, elBulli.
Comments are welcome and encouraged.
Text and photographs copyright by Gerry Dawes©2021. Using photographs without crediting Gerry Dawes©2021 on Facebook. Publication without my written permission is not authorized.
Shall deeds of Caesar or Napoleon ring
More true than Don Quixote's vapouring?
Hath winged Pegasus more nobly trod
Than Rocinante stumbling up to God?
Poem by Archer M. Huntington inscribed under the Don Quixote on his horse Rocinante bas-relief sculpture by his wife, Anna Vaughn Hyatt Huntington,
in the courtyard of the Hispanic Society of America's incredible museum at 613 W. 155th Street, New York City.
_______________________________________________________________________________________________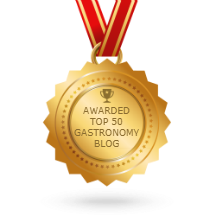 In 2019, again ranked in the Top 50 Gastronomy Blogs and Websites for Gastronomists & Gastronomes in 2019 by Feedspot. (Last Updated Oct 23, 2019)
"
The Best Gastronomy blogs selected from thousands of Food blogs, Culture blogs and Food Science blogs in our index using search and social metrics. We've carefully selected these websites because they are actively working to educate, inspire, and empower their readers with frequent updates and high-quality information."

36. Gerry Dawes's Spain: An Insider's Guide to Spanish Food, Wine, Culture and Travel
About Gerry Dawes
My good friend Gerry Dawes, the unbridled Spanish food and wine enthusiast cum expert whose writing, photography, and countless crisscrossings of the peninsula have done the most to introduce Americans—and especially American food professionals—to my country's culinary life." -- Chef-restaurateur-humanitarian José Andrés, Nobel Peace Prize Nominee and Oscar Presenter 2019
Gerry Dawes is the Producer and Program Host of Gerry Dawes & Friends, a weekly radio progam on
Pawling Public Radio
in Pawling, New York (streaming live and archived at www.pawlingpublicradio.org and at www.beatofthevalley.com.)
Dawes was awarded Spain's prestigious Premio Nacional de Gastronomía (National Gastronomy Award) in 2003. He writes and speaks frequently on Spanish wine and gastronomy and leads gastronomy, wine and cultural tours to Spain. He was a finalist for the 2001 James Beard Foundation's Journalism Award for Best Magazine Writing on Wine, won The Cava Institute's First Prize for Journalism for his article on cava in 2004, was awarded the CineGourLand "Cinéfilos y Gourmets" (Cinephiles & Gourmets) prize in 2009 in Getxo (Vizcaya) and received the 2009 Association of Food Journalists Second Prize for Best Food Feature in a Magazine for his Food Arts article, a retrospective piece about Catalan star chef, Ferran Adrià.
". . .That we were the first to introduce American readers to Ferran Adrià in 1997 and have ever since continued to bring you a blow-by-blow narrative of Spain's riveting ferment is chiefly due to our Spanish correspondent, Gerry "Mr. Spain" Dawes, the messianic wine and food journalist raised in Southern Illinois and possessor of a self-accumulated doctorate in the Spanish table. Gerry once again brings us up to the very minute. . ." - - Michael & Ariane Batterberry, Editor-in-Chief/Publisher and Founding Editor/Publisher, Food Arts, October 2009.
Pilot for a reality television series on wine, gastronomy, culture and travel in Spain.