* * * * *
Hemingway was a great lover of Champagne and he often referred to it in his writing. In The Sun Also Rises, three of Hemingway's characters - - the free-spending, Champagne-loving Count Mippipopolous, the protagonist Jake Barnes, and the unforgettable femme fatale Lady Brett - - polish off three bottles of Mumms in a single session.
The Champagne drinking scene took place in the opening chapters just before Jake Barnes, Lady Brett, Robert Cohn, Mike Campbell, and Bill Gorton - - fictional charter members of Gertrude Stein's "Lost Generation" - - headed down to Pamplona, Spain for the Fiestas de San Fermín, sans Count Mippipopolous. At the beginning of Fiesta, Hemingway's characters, now minus the Count's generous Champagne contributions, switched to cheap red wine in the peasant bars of the old quarter of Pamplona.

The Sun Also Rises, published in 1926, became a classic and spawned a cult-like devotion to San Fermín, especially among English-speaking foreigners. It would be several decades before the modern-day incarnation of the Count surfaced at San Fermín in the person of a generous Welshman named Noel Chandler. Chandler, like Count Mippipopolous, has drunk his share of Champagne in Paris (where he celebrates New Year's Eve).
Although he neither holds, nor claims a title, with his rugged countenance, polished manners, and mysterious air, Chandler is clearly a worthy spiritual descendant of Hemingway's Champagne-loving Count and his annual San Fermín Champagne party, until a few years ago when it was decided that the well-aged timbers of Chandler's lofty walk-up apartment above the calle Estafeta could not safely support the many scores of people who were ascending each 6th of July to party with Noel.
Algo se muere en el alma cuando una amigo se va
Cuando una amigo se va
algo se muere en el alma
cuando una amigo se va
algo se muere en el alma
cuando una amigo se va
cuando una amigo se va
y va dejando una huella
que no se puede borrar
y va dejando una huella
que no se puede borrar
No te vayas todavia,
no te vayas por favor
no te vayas todavia
que hasta la guitarra mia llora
cuando dice adios
Something dies en your soul when a friend leaves
When a friend leaves
Something dies en your soul
when a friend leaves
Something dies en your soul
when a friend leaves
when a friend leaves
and it leaves a wake
that cannot be erased
Don't go yet
please don't go
don't go yet
Even my guitar cries
when you say adios.
Noel Chandler (d. Oct. 14, 2015, Madrid) Que decanses en paz.
Photo by Gerry Dawes©2018
* * * * *
"Most of what I know about Spain came from Gerry Dawes. Sunset in a Glass: Adventures of a Food & Wine Road Warrior in Spain is the authoritative source for everything Spanish—people, food, wine, culture. And his diverting escapades on the road sometimes read like James Michener with Hunter Thompson in the passenger's seat." --Bryan J. Miller, Former New York Times Restaurant Critic;
author, Dining in the Dark: A Famed Restaurant Critic's Struggle with and Triumph over Depression
Sunset in a Glass Volumes I & II will be published this Fall. Stay tuned.
Constructive comments are welcome and encouraged.
If you enjoy these blog posts, please consider a contribution to help me continue the work of gathering all this great information and these photographs for Gerry Dawes's Insider's Guide to Spanish Food, Wine, Culture and Travel. Contributions of $5 and up will be greatly appreciated. Contributions of $100 or more will be acknowledged on the blog. Please click on

this secure link to Paypal

to make your contribution.
Text and photographs copyright by Gerry Dawes©2021. Using photographs without crediting Gerry Dawes©2021 on Facebook. Publication without my written permission is not authorized.
Shall deeds of Caesar or Napoleon ring
More true than Don Quixote's vapouring?
Hath winged Pegasus more nobly trod
Than Rocinante stumbling up to God?
Poem by Archer M. Huntington inscribed under the Don Quixote on his horse Rocinante bas-relief sculpture by his wife, Anna Vaughn Hyatt Huntington,
in the courtyard of the Hispanic Society of America's incredible museum at 613 W. 155th Street, New York City.
__________________________________________________________________________________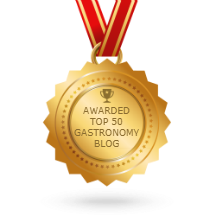 In 2019, again ranked in the Top 50 Gastronomy Blogs and Websites for Gastronomists & Gastronomes in 2019 by Feedspot. (Last Updated Oct 23, 2019)
"
The Best Gastronomy blogs selected from thousands of Food blogs, Culture blogs and Food Science blogs in our index using search and social metrics. We've carefully selected these websites because they are actively working to educate, inspire, and empower their readers with frequent updates and high-quality information."

36. Gerry Dawes's Spain: An Insider's Guide to Spanish Food, Wine, Culture and Travel
About Gerry Dawes
My good friend Gerry Dawes, the unbridled Spanish food and wine enthusiast cum expert whose writing, photography, and countless crisscrossings of the peninsula have done the most to introduce Americans—and especially American food professionals—to my country's culinary life." -- Chef-restaurateur-humanitarian José Andrés, Nobel Peace Prize Nominee and Oscar Presenter 2019
Gerry Dawes is the Producer and Program Host of Gerry Dawes & Friends, a weekly radio progam on
Pawling Public Radio
in Pawling, New York (streaming live and archived at www.pawlingpublicradio.org and at www.beatofthevalley.com.)
Dawes was awarded Spain's prestigious Premio Nacional de Gastronomía (National Gastronomy Award) in 2003. He writes and speaks frequently on Spanish wine and gastronomy and leads gastronomy, wine and cultural tours to Spain. He was a finalist for the 2001 James Beard Foundation's Journalism Award for Best Magazine Writing on Wine, won The Cava Institute's First Prize for Journalism for his article on cava in 2004, was awarded the CineGourLand "Cinéfilos y Gourmets" (Cinephiles & Gourmets) prize in 2009 in Getxo (Vizcaya) and received the 2009 Association of Food Journalists Second Prize for Best Food Feature in a Magazine for his Food Arts article, a retrospective piece about Catalan star chef, Ferran Adrià.
". . .That we were the first to introduce American readers to Ferran Adrià in 1997 and have ever since continued to bring you a blow-by-blow narrative of Spain's riveting ferment is chiefly due to our Spanish correspondent, Gerry "Mr. Spain" Dawes, the messianic wine and food journalist raised in Southern Illinois and possessor of a self-accumulated doctorate in the Spanish table. Gerry once again brings us up to the very minute. . ." - - Michael & Ariane Batterberry, Editor-in-Chief/Publisher and Founding Editor/Publisher, Food Arts, October 2009.
Pilot for a reality television series on wine, gastronomy, culture and travel in Spain.