* * * * *
Terms & Conditions / Reservations Form
Travels in Spain with Gerry Dawes
TERMS & CONDITIONS
Reservations: A $1,000 per person deposit, along with

a completed and signed Reservation Form, will reserve a place for participants on this program. The balance of the trip is due 45 days prior to

departure and must be paid by

March 15, 2023

.
Cancellation and Refund Policy: Notification of cancellation must be received in writing or by e-mail (to gerrydawes@aol.com).

At the time we receive your written cancellation, the following penalties will apply:
• Because we are under 90 days to departure the $1,000 deposit is not refundable.
• Because final payment will be under 60 days prior to departure, the cost of the tour will not be refundable. In the case of a verifiable medical emergency, we will refund 50% of the cost of the tour (keep in mind that most of our hotels and the ground transportation must be paid up
front, as are some restaurant reservations.
Tour pricing is based on the number of participants. Please refer to the tour description for pricing.

If the number of tour participants falls below the level required for a trip, you will be offered the option of paying the higher price based on the lowered number of participants.

(*We have the participants we need to maintain the stated price.)



Tour can also be cancelled due to low enroll

ment.

Neither GD, KB

or JCC

accepts

liability for cancellation penalties related to domestic

or international airline tickets purchased in conjunction with the tour.
Trip Cancellation and Interruption Insurance: We strongly advise that all travelers purchase trip cancellation and interruption insurance as coverage against a covered unforeseen emergency that may force you to cancel or leave trip while it is in progress.
Medical Information: Participation in this program requires that you be in good health. It is essential that persons with any medical problems and related dietary restrictions make them known to us well before departure.
Itinerary Changes & Trip Delay: Itinerary is

based on information available at the time of printing

and are subject to change. We reserve the right to change a program's dates, staff, itineraries, or

accommodations as conditions warrant. If a trip must be

delayed, or the itinerary changed, due to bad weather, road conditions, transportation delays, airline schedules,

government intervention, sickness or other contingency for

which

GD, KB or JCC

or their agents cannot make provision, the cost of delays or changes is not included.
Limitations of Liability:

GD, KB, JCC, i

ts Owners, Agents, and Employees act

only as the agent for any transportation carrier, hotel, ground operator, or other suppliers of services connected with this program ("other providers"), and the other providers are solely responsible and liable for providing their respective services.

Neither GD, KB nor JCC shall not be held liable for (A) any damage to, or loss of, property or injury to, or death of, persons occasioned directly or indirectly by an act or omission of any other provider, including but not limited to any defect in any aircraft, train or vehicle operated or provided by such other provider, and (B) any loss or damage due to delay, cancellation, or disruption in any manner caused by the laws, regulations, acts or failures to act, demands, orders, or interpositions of any government or any subdivision or agent thereof, or by acts of God, strikes, fire, flood, war, rebellion, terrorism, insurrection, sickness, quarantine, epidemics, theft, or any other cause(s) beyond their control. The participant waives any claim against GD/KB for any such loss, damage, injury, or death.
By registering for the trip, the participant certifies that he/she does not have any mental, physical, or other condition or disability that would create a hazard for him/herself or other participants, nor cause the group to suffer unwarranted delay, i. e., not be able to mention a reasonable pace on walking tours, etc.
GD/KB/JCC shall not be liable for any air carrier's cancellation penalty incurred by the purchase of a nonrefundable ticket to or from the departure city.
Baggage and personal effects are at all times the sole responsibility of the traveler.
Reasonable changes in the itinerary may be made by the tour operators where deemed advisable for the comfort and well-being of the passengers.
Travels in Spain With Gerry Dawes
Reservations Form
Tour:
A Taste of Madrid, Western Spain (Castilla y León and Extremadura), Andalucía & La Mancha Tour With Acclaimed Spain Expert Gerry Dawes May 6 – May 17, 2020

NAME(S)____________________________________GENDER (M/F)_____________

NAME(S)____________________________________GENDER (M/F)_____________
STREET ADDRESS______________________________________________________
CITY/STATE/ZIP CODE_________________________________________________
HOME PHONE_________________MOBILE PHONE:__________________
E-MAIL________________________________________________________________
SINGLE TRAVELERS ONLY (P
lease indicate):
I plan to share accommodations with ________________________________________
or

___ I'd like to know about possible roommates.
or

___ I do not want to share accommodations.
PAYMENT:
Here is my deposit of $_______ ($1,000 per person) for ________ place(s).
Enclosed is my check (make payable to Gerald E. Dawes). For Zelle payment transfers to my Chase bank account, email me at
gerrydawes@aol.com
or for PayPal debit or credit card payments, please see below.*
or

Charge my deposit of $1039.30 to my Visa __ MasterCard __ AMEX__

(3.9% + .30 cents added to each credit card payment for processing.)
________________________________

Security Code

:___________________________
authorized cardholder signature ________________________________________
date:_____________________
Or e-mail filled-out form attached to:
gerrydawes@aol.com
I/We have read the Terms and Conditions for this program and agree to them.



Signature ________________________________________________________________________
Shall deeds of Caesar or Napoleon ring
More true than Don Quixote's vapouring?
Hath winged Pegasus more nobly trod
Than Rocinante stumbling up to God?
Poem by Archer M. Huntington inscribed under the Don Quixote on his horse Rocinante bas-relief sculpture by his wife, Anna Vaughn Hyatt Huntington, in the courtyard of the Hispanic Society of America's incredible museum at 613 W. 155th
Street, New York City.
____________________________________________________________________________________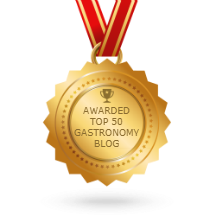 In 2019, again ranked in the Top 50 Gastronomy Blogs and Websites for Gastronomists & Gastronomes in 2019 by Feedspot. (Last Updated Oct 23, 2019)
"
The Best Gastronomy blogs selected from thousands of Food blogs, Culture blogs and Food Science blogs in our index using search and social metrics. We've carefully selected these websites because they are actively working to educate, inspire, and empower their readers with frequent updates and high-quality information."

36. Gerry Dawes's Spain: An Insider's Guide to Spanish Food, Wine, Culture and Travel
Gerry Dawes
"My good friend Gerry Dawes, the unbridled Spanish food and wine enthusiast cum expert whose writing, photography, and countless crisscrossings of the peninsula have done the most to introduce Americans—and especially American food professionals—to my country's culinary life." -- Chef-restaurateur-humanitarian José Andrés, Nobel Peace Prize Nominee and Oscar Presenter 2019
Gerry Dawes was the Producer and Program Host of Gerry Dawes & Friends, a weekly radio progam on
Pawling Public Radio
in Pawling, NY.
Dawes was awarded Spain's prestigious Premio Nacional de Gastronomía (National Gastronomy Award) in 2003. He writes and speaks frequently on Spanish wine and gastronomy and leads gastronomy, wine and cultural tours to Spain. He was a finalist for the 2001 James Beard Foundation's Journalism Award for Best Magazine Writing on Wine, won The Cava Institute's First Prize for Journalism for his article on cava in 2004, was awarded the CineGourLand "Cinéfilos y Gourmets" (Cinephiles & Gourmets) prize in 2009 in Getxo (Vizcaya) and received the 2009 Association of Food Journalists Second Prize for Best Food Feature in a Magazine for his Food Arts article, a piece about Catalan star chef, Ferran Adrià.
". . . That we were the first to introduce American readers to Ferran Adrià in 1997 and have ever since continued to bring you a blow-by-blow narrative of Spain's riveting ferment is chiefly due to our Spanish correspondent, Gerry "Mr. Spain" Dawes, the messianic wine and food journalist raised in Southern Illinois and possessor of a self-accumulated doctorate in the Spanish table. Gerry once again brings us up to the very minute. . ." - - Michael & Ariane Batterberry, Editor-in-Chief/Publisher and Founding Editor/Publisher, Food Arts, October 2009.
Pilot for a reality television series on wine, gastronomy, culture and travel in Spain.
I
f you enjoy these blog posts, please consider a contribution to help me continue the work of gathering all this information and photographs for Gerry Dawes's Insider's Guide to Spanish Food, Wine, Culture and Travel. Contributions of $5 and up will be greatly appreciated. Contributions of $100 or more will be acknowledged on the blog.