* * * * *
Bodegas Rosell, Arganzuela, just a few block from Atocha Train Station.
"De Puras Viñas Vienen Los Vinos A Bodegas Rosell" (The Wines at Bodegas Rosell Come From 'Pure' Vineyards), which sounds good, if you say it fast.
March 28, 2019 I just arrived in Madrid today and stayed in the Arganzuela neighborhood near Atocha train station and went a couple of blocks from my hotel to the venerable Bodegas Rosell, a fine old bodega-tavern with some good, if not consistently good, tapas. Bodegas Rosell is a very colorful, authentic bodega-taberna-and-tapas spot, frequented by a lot of blue-collar residents of Arganzuela, and tonight, no tourists, though, once in a while in daytime hours, tourists sometimes find there way here from the nearby Reina Sofia Art Museum. I have stayed in Arganzuela several times now and, thus have been to Bodegas Rosell at least half a dozen times.
The Thursday night crew at Bodegas Rosell, with the images in the mirror a modern-day Veláquez scene.
Among the dishes are potato chips with a bit of salt cod plopped on top (good chips, but the bacalao is not a good idea), very good mejillones a la gallega from a tin (I could have eaten another ration, since I love these tinned mussels), croquetas de Cabrales blue cheese (good, but a little hard to eat, since the tend to break apart when you pick them up), a very thick (too thick) salmorejo and Spanish EVOO on very good bread topped with chorizo Ibérico, plus good vermut rojo and glasses of Cruzcampo draft beer.
Among the dishes were potato chips with a bit of salt cod plopped on top, served to me with good vermut rojo for an opener.
Very good mejillones a la gallega from a tin (I could have eaten another ration, since I love these tinned mussels) and good croquetas de Cabrales blue cheese with good vermut rojo.
Very good mejillones a la gallega from a tin at Bodegas Rosell.
A very thick (too thick) salmorejo and a glass of Cruzcampo draft beer.
Valle, my server at Bodegas Rosell, putting Torres Extra Virgen Arbequina olive oil on good pan, then topping it with chorizo Ibérico.
Bodegas Rosell, Exquisito Vermouth.
Calle del Gral. Lacy, 14, 28045 Madrid, Spain
Shall deeds of Caesar or Napoleon ring
More true than Don Quixote's vapouring?
Hath winged Pegasus more nobly trod
Than Rocinante stumbling up to God?
Poem by Archer M. Huntington inscribed under the Don Quixote on his horse Rocinante bas-relief sculpture by his wife, Anna Vaughn Hyatt Huntington,
in the courtyard of the Hispanic Society of America's incredible museum at 613 W. 155th Street, New York City.
________________________________________________________________________________________________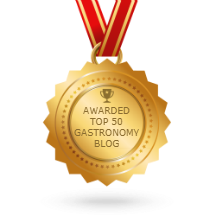 About Gerry Dawes
My good friend Gerry Dawes, the unbridled Spanish food and wine enthusiast cum expert whose writing, photography, and countless crisscrossings of the peninsula have done the most to introduce Americans—and especially American food professionals—to my country's culinary life." -- Chef-restaurateur-humanitarian José Andrés, Nobel Peace Prize Nominee and Oscar Presenter 2019
Gerry Dawes is the Producer and Program Host of Gerry Dawes & Friends, a weekly radio progam on
Pawling Public Radio
in Pawling, New York (streaming live and archived at www.pawlingpublicradio.org and at www.beatofthevalley.com.)
Dawes was awarded Spain's prestigious Premio Nacional de Gastronomía (National Gastronomy Award) in 2003. He writes and speaks frequently on Spanish wine and gastronomy and leads gastronomy, wine and cultural tours to Spain. He was a finalist for the 2001 James Beard Foundation's Journalism Award for Best Magazine Writing on Wine, won The Cava Institute's First Prize for Journalism for his article on cava in 2004, was awarded the CineGourLand "Cinéfilos y Gourmets" (Cinephiles & Gourmets) prize in 2009 in Getxo (Vizcaya) and received the 2009 Association of Food Journalists Second Prize for Best Food Feature in a Magazine for his Food Arts article, a retrospective piece about Catalan star chef, Ferran Adrià.
". . .That we were the first to introduce American readers to Ferran Adrià in 1997 and have ever since continued to bring you a blow-by-blow narrative of Spain's riveting ferment is chiefly due to our Spanish correspondent, Gerry "Mr. Spain" Dawes, the messianic wine and food journalist raised in Southern Illinois and possessor of a self-accumulated doctorate in the Spanish table. Gerry once again brings us up to the very minute. . ." - - Michael & Ariane Batterberry, Editor-in-Chief/Publisher and Founding Editor/Publisher, Food Arts, October 2009.
Pilot for a reality television series on wine, gastronomy, culture and travel in Spain.