* * * * *

Boquería Gourmand
(Foreword includes additional paragraphs not in the published version.)
By Gerry Dawes©2018
Premio Nacional de Gastronomía 2003
(Stay tuned for many more photographs of
La Boquería.)
"I felt dizzy with the idea that I was part of that paradise of food. It was, and still is, a petit poble (small village) inside the big city." - - Qu

i

m Marquéz, Chef-owner, Qu

i

m de la Boquería, Parada 606 (location), El Mercat de La Boquería.
Quim Marquéz, Chef-owner, Quim de la Boquería
For forty years I have been traveling in the patrias chicas of the Iberian Peninsula. I lived for eight years in Andalucía and have repeatedly crisscrossed El País Vasco, Galicia, Valencia, Navarra, Aragón, La Rioja, Asturias, Extremadura, the lands of Castilla y León, and all of the other provinces of Iberia, including Catalunya. Over these decades of travel, I have come to love many "pueblos" across the vast, wonderful and exotic Iberian landscape-Sanlúcar de Barrameda (where my soul resides) and Ronda in Andalucía: Chinchón just outside Madrid; Covarrubias (Burgos); Burguete (Navarra); Haro (La Rioja), Cangas de Onís (Asturias), Gratallops (Tarragona) and Cadaqués (Girona), among many.
Gerry Dawes, Juanito Bayen and Juli Soler at Pinotxo Bar, Barcelona, Jan. 14, 2014.
/ Facebook / Twitter / Pinterest. Panasonic Lumix DMC ZS30 43-86mm f3.3 – f6.4.
Photo courtesy of Gerry Dawes©2014 / gerrydawes@aol.com
As much as I long to return to such places for a variety of reasons, not the least of which is a multitude of friends and memories, few have quite the compelling attraction of Barcelona's El Mercat de San Josep, La Boquería market, which as Quim Marquéz put it so well, "still is a petit poble (small village) inside the big city" and is literally one of my favorite pueblos in the world.
Ever since I spent six weeks in Barcelona in 1970--first working as an extra on the American movie, The Great White Hope (many of the boxing scenes were filmed on Montjuic) and having anecdotal quality adventures off the set with the actor, James Earl Jones--this exciting city has occupied a favored spot in my heart. While working on the movie, I stayed in a steeply discounted small room in the Hotel Ritz, then I moved to a very modest pensión, ironically on the calle de la Boquería. Each day, I lived the rich Bohemian life of the legendary pedestrian artery, Les Rambles, and the narrow, labyrinthine streets of the Barri Goti, el Raval and Born, incessantly taking photographs, including a memorable Sunday when I captured soulful images of Catalan sardana dancing in front of the Cathedral.


Caren (from Argentina), Winged Victory. Les Rambles, Barcelona.
Photo by Gerry Dawes©2008 / gerrydawes@aol.com.
In those early days, I was not yet the gourmet and gourmand that I would become as a writer-photographer specializing in the gastronomy of Spain--in 1997, Food Arts magazine (http://www.foodarts.com/Foodarts/FA_Feature/0,4041,387,00.html) published my article on Ferran Adrià, the first major article in the U.S. on elBulli's superstar chef. I wandered into La Boquería on occasion (and returned there periodically on subsequent trips), but then usually I went on to explore Barcelona's other attractions - Les Rambles, the Barri Gotic, Montjuic, La Barceloneta and Antoni Gaudi's architecture.
Lovers in Antoni Gaudí's Parque Güell, Barcelona.
Photograph by Gerry Dawes©2010 / gerrydawes@aol.com.
It was not until 1992 that I was properly introduced to La Boquería on a pre-Olympic, gastronomic scouting trip with two major American journalists, Bryan Miller of The New York Times and William Rice of The Chicago Tribune. With us was Spanish expatriate restaurateur, Gabino Sotelino from Chicago, who seemed to know everyone. On our first day in Barcelona, we had an incredible breakfast in La Boquería at Bar Pinotxo, where Juanito Bayen held court and posed for his famous trademark thumbs-up photographs. Catalan culinary luminaries, American chef Jonathan Waxman and writer Colman Andrews (author of Catalan Cuisine), both stopped by to say "bon día" to Juanito and see what he and his battery of cooks were serving that morning.
Juanito Bayen, owner of Pinotxo in La Boquería, Barcelona.
Photograph by Gerry Dawes©2008. Contact: gerrydawes@aol.com
There were egg dishes, mongetes (little white beans prized here as fesols de Sant Pau) and butifarra blanca (Catalan sausages), grilled asparagus and more, all washed down with lots of glasses of cava (Catulunya's fine sparkling wine), then carajillos, brandy-spiked espresso with the naughty name. Later, we went with Isidre Gironés, owner of the legendary Ca L'Isidre restaurant, to Petras's mushroom stall, where I photographed Isidre with a large box of truffles.
Breakfast of Champions, calamarsets saltats amb fesols de Sant Pau, beans with tiny squid dressed with a drizzle of reduced balsamic vinegar, with beer or cava (Catalan Champagne), Pinotxo Bar, La Boquería, Barcelona, Jan. 11, 2014.
Photo by Gerry Dawes©2014 / gerrydawes@aol.com / Facebook / Twitter / Pinterest. Canon 5D Mark III / Tokina 17-35mm f/4.
Everywhere in La Boquería there is color. Artistically arranged in tiers are red, green, yellow and orange peppers; yellow-and-blush pink peaches, red, yellow and green apples, oranges, lemons and limes; shiny black or purple eggplant; green zucchini squash, green and white asparagus, artichokes and chirmoyas (custard apples); little baskets of red raspberries and currants; red and red-green tomatoes; white and red radishes, hanging strings of garlic and dried dark red ñora peppers. Around a corner, a stand sells a dozen varieties of cured green, black and purple olives, pickled cucumbers, pickled onions, garbanzos, etc. And another specializes in a Catalan staple, bacalao, salt cod in small stacks or in trays soaking in water, being de-salinated before cooking.
Eduard Soley, Vice President of La

Boquería Owners Association

bags a purchase at his stand in la Boquería.
Photo by Gerry Dawes©2010 / gerrydawes@aol.com.
Jordi Mas's (co-author of Boquería Gourmand) family establishment, Mas Gourmets de L'Embotit (five stalls in La Boquería), specializes in Spanish hams and a variety of traditional and innovative embotits (cured meats and sausages). Hanging from hooks attached to metal rods suspended from the ceiling are a dozen types of jamónes Ibéricos de bellota--exquisite pink-to-wine red, streaked with ethereal white-yellow fat hams from free-range pata negra (black hoof breed) pigs fattened on acorns-specially selected from three separate denominaciones de origen in western Spain.
Jordi Mas at on of his five Mas Embotits stands at la Boqueria market in Barcelona.
And, in La Boquería, a variety of butcher shops offer everything from steaks and pork chops to whole lamb, suckling pig, goat, rabbit and game birds. Some specialize in offal--brains, livers, hearts, mounds of snow white tripe and "off" parts, pigs' trotters, lambs' heads, etc.
Another stall offers a wide range of imported and local cows', ewes' and goats' milk cheeses from Catalan Garrotxa to Extremaduran torta del Casar to French Vacherin Mont d'Or. A number of bakeries sell a wide variety of breads, pastries and pa coca, the original Catalana version of pizza. A favorite photo opportunity is Ous de Calaf, which specializes in an impressive array of eggs from hens (organically raised), bantams, turkeys, ducks, pheasants, partridge, quail, ostrich and even emu!!
And, at Avinova Ous i Caça (Eggs and Game), my friend Salvador Capdevila, depending upon the season, will have rows of rabbits, partridge, ducks, geese and other game, including venison, hanging in his cases to be hand dressed or cut according to the needs of his customers, which include some of the top restaurants in Catalunya.
Salvador Capdevila, owner of Avinova, and Catalan food writer and personality Xavi Agulló at Bar Pinotxo, Barcelona.

Photo by Gerry Dawes©2010 / gerrydawes@aol.com.
Another major attraction is the seafood purveyors selling a stunning selection of fresh fish (all arranged on beds of ice) from both the Mediterranean and the Atlantic, interspersed with a wide variety of shellfish--pink gambas (shrimp) from Denia and Pálamos on the Mediterranean, carbineros (bright scarlet prawns) from Huelva, red or blue-green llagostas (lobsters), walnut-colored, razor-case shaped navalles (razor clams) and white-pink cigalas (Dublin Bay prawns) from Galicia (many so fresh they are still alive!). These colorful market stalls bustle with constant movement with fishmongers.
Gemma Bosch Roca at her great seafood stand in La Boquería.
Photo by Gerry Dawes©2014 / gerrydawes@aol.com / Facebook / Twitter / Pinterest. Panasonic Lumix DMC ZS30 43-86mm f3.3 – f6.4.
For years I have always stopped to photograph my friend, the lovely Gemma Bosch Roca, always stylishly dressed, like many women in La Boquería, wearing an elegantly embroidered bodice and looking gorgeous, all the while bagging mariscos (exquisite crustaceans and mollusks), cutting up fish, wrapping slices and filets, passing them to customers and taking payment. Many of the women of La Boquería go to work dressed like they are going after work to attend a performance at the nearby Gran Teatre de Liceu (on Les Rambles), Barcelona's equivalent of Milano's La Scala. (Years ago, one such well-dressed woman in a Boquería butcher's shop--before the health authorities made everyone wear gloves--spread open the carcass of a goat hanging in her stall for me to photograph with her carefully manicured, bright carmine-lacquered fingernails and the gold ring with diamonds she was wearing juxtaposed against the pink flesh of the freshly butchered animal.)
At the back of the market, I always return to the famous stall of Bolets Petras, which even though my friend owner Llorenç Petràs has retired and left the business in the capable hands of his son, Xavier, still sells a multitude of mushrooms in season, along with truffles like the ones in the box that Isidre Gironés of Ca L'Isidre held for me to photograph twenty years ago.
The legendary mushroom-and-truffle guru, Llorenç Petràs, now-retired, but who just happened to be at his Petras stand in Barcelona's Mercat de La Boquería that day (the stand is now run by his son) and showed the chefs a pile of prime black truffles.
Photo by Gerry Dawes©2014 / gerrydawes@aol.com / Facebook / Twitter / Pinterest. Canon EOS 6D / Tokina 17-35mm f/4.
I always finish my tour of la Boquería at Quím de la Boquería, another legendary market bar, whose slogan is "El Arte de Comer en Un Taburete" (The Art of Eating on a Barstool). I
f he is not crazy busy,
I get a thumbs-up and a big abrazo from Quím Marquéz, the owner. From a small stove in impossibly tight quarters his sauteé pans flame and his plancha grill sizzles as Quím and his crew prepare some of the best food in food-crazy Barcelona. For my "second breakfast"-- the first was at Pinotxo-knowing that I am going to be fed like a king I put myself in Quím's hands, like he did with me when I took him and his two young sons to New York City's Chinatown a few years ago.
Quím Marquéz,
legendary market bar, whose slogan is "El Arte de Comer en Un Taburete" (The Art of Eating on a Barstool).
Photo by Gerry Dawes©2014 / gerrydawes@aol.com / Facebook / Twitter / Pinterest. Canon EOS 6D / Tokina 17-35mm f/4.
Quím may make me a bowl of steaming beberechos (cockles); a plate of grilled asparagus or deep-fried artichoke hearts; an exquisite dish of shrimp with the heads still on; my beloved mongetes with butifarra and aioli; then a perfectly cooked slab of foie gras with crispy fried leeks, all accompanied by glasses of cava rosat (rosé), Catalan Champagne.
At Quím de la Boquería, I usually meet my old friend, Salvador Capdevila, owner of Avinova and now President of La Boquería owner's association. Sometimes Salvador, then Vice President, would come with the amiable and highly regarded Manel Ripoll, who was President of La Boquería and who also became a friend. (Sadly, Manel and two other friends of mine, the three-star Catalan chef Santi Santamaría and Pinotxo's Albert Asín, all died early in 2011). And during the course of the hour I may spend at Quím de la Boquería, I sometimes see some of the most famous names in Catalan gastronomy such as my dear friend, (the late) Juli Soler (Ferran Adrià's partner at elBulli); Ferran's brother, Albert, chef-owner of Tickets; and Christian Escribà, Barcelona's supremely talented pastry maestro and event planner.
My late great friend Juli Soler and I in front of a photo of Christian Escribà at Escribà on Les Rambles, next to La Boquería Market, Barcelona, Jan. 11, 2014.
Photo by a friend of Juli Soler, Hubert Wiese Tornoe, Montblanc Iberia, SLU.
But, regardless of who shows up, when I return to this gastronomic paradise that is La Boquería, I always feel like I have come home to the pueblo of my dreams.
Shall deeds of Caesar or Napoleon ring
More true than Don Quixote's vapouring?
Hath winged Pegasus more nobly trod
Than Rocinante stumbling up to God?
Poem by Archer M. Huntington inscribed under the Don Quixote on his horse Rocinante bas-relief sculpture by his wife, Anna Vaughn Hyatt Huntington,
in the courtyard of the Hispanic Society of America's incredible museum at 613 W. 155th Street, New York City.
_______________________________________________________________________________________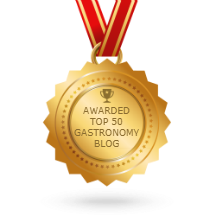 About Gerry Dawes
My good friend Gerry Dawes, the unbridled Spanish food and wine enthusiast cum expert whose writing, photography, and countless crisscrossings of the peninsula have done the most to introduce Americans—and especially American food professionals—to my country's culinary life." -- Chef-restaurateur-humanitarian José Andrés, Nobel Peace Prize Nominee and Oscar Presenter 2019
Gerry Dawes is the Producer and Program Host of Gerry Dawes & Friends, a weekly radio progam on
Pawling Public Radio
in Pawling, New York (streaming live and archived at www.pawlingpublicradio.org and at www.beatofthevalley.com.)
Dawes was awarded Spain's prestigious Premio Nacional de Gastronomía (National Gastronomy Award) in 2003. He writes and speaks frequently on Spanish wine and gastronomy and leads gastronomy, wine and cultural tours to Spain. He was a finalist for the 2001 James Beard Foundation's Journalism Award for Best Magazine Writing on Wine, won The Cava Institute's First Prize for Journalism for his article on cava in 2004, was awarded the CineGourLand "Cinéfilos y Gourmets" (Cinephiles & Gourmets) prize in 2009 in Getxo (Vizcaya) and received the 2009 Association of Food Journalists Second Prize for Best Food Feature in a Magazine for his Food Arts article, a retrospective piece about Catalan star chef, Ferran Adrià.
". . .That we were the first to introduce American readers to Ferran Adrià in 1997 and have ever since continued to bring you a blow-by-blow narrative of Spain's riveting ferment is chiefly due to our Spanish correspondent, Gerry "Mr. Spain" Dawes, the messianic wine and food journalist raised in Southern Illinois and possessor of a self-accumulated doctorate in the Spanish table. Gerry once again brings us up to the very minute. . ." - - Michael & Ariane Batterberry, Editor-in-Chief/Publisher and Founding Editor/Publisher, Food Arts, October 2009.
Pilot for a reality television series on wine, gastronomy, culture and travel in Spain.