* * * * *
Sunset in a Glass: Adventures of a Food and Wine Road Warrior in Spain
All text and photographs by Gerry Dawes
©2021.
Author of the forthcoming Sunset in a Glass: Adventures of a Food and Wine Road Warrior in Spain (publication 2021).

Ajo Blanco and photograph by Gerry Dawes.
Ajo blanco (gazpacho blanco or gazpacho a la Malague
ña
[
Málaga-style gazpacho]), made with almonds, bread, garlic, Sherry vinegar, salt and water, usually garnished with green grapes, sometimes with diced apples, as shown above.
Click on title to see entire post.
Ajo Blanco with apple as a guarnición (garnish).
Ajo Blanco and photograph by Gerry Dawes.
Ajo blanco has the appearance of a bowl of the whitewash that is used to keep houses white in many parts of Spain, but this dish is one of the greatest folk dishes of Spain. The juxtaposition of the texture of the ground almonds and bread, garlic, vinegar and salt with the tart sweetness of the grape or apple garnishes makes for a compelling dish, whose flavors are addictive.
Ajo blanco, stylized version with toasted pine nuts, chunks of apple and the un-needed balsamic vinegar, La Perejilla, Cava Baja 25, Madrid. Photo by Gerry Dawes©2014 / gerrydawes@aol.com / Facebook / Twitter / Pinterest. Canon G15 / Canon f/1.8 – f/2.8 5X 24-140mm IS USM.
Ajo blanco (gazpacho blanco or gazpacho Malagueño), at Abades Triana Restaurant, Sevilla. Photo by Gerry Dawes©2013 / gerrydawes@aol.com. Canon 5D Mark III / Canon 24 105mm f/4L IS US

Ajo Blanco, Gazpacho Blanco, Gazpacho Malagüeño or Gazpacho a la Malagüeña
Ajo Blanco is one of the quintessential folk dishes of the Mediterranean. It has the essential elements without which Mediterranean cuisines would not exits: water, vinegar from wine, sea salt, olive oil, bread, garlic, almonds and grapes.)
2 cups of good French or Italian or Sourdough (optional and not traditional) bread, fine if it is a day or more old.
1 cup of blanched almonds (without the brown husks)
2 cloves of good garlic (cut and smell, no green centers!)
2 cups of cold water
½ cup of good Spanish Extra Virgen Olive Oil
1/8 cup of Sherry vinegar
1/8 cup of white wine or cider vinegar (Sherry vinegar alone gives too strong a flavor)
1 tsp. coarse sea salt (or to taste; do NOT use fine salt)
6 green seedless grapes per serving, cut in half or 4-6 small canteloupe balls per person.
Soak a 2-cup sized chunk of bread in the water until it is soft.
Add the bread and water to a blender and mix on high.
Add the almonds, garlic, vinegar and sea salt and blend on high until the almonds are broken into tiny pieces, then add the olive oil through the hole in the blender top in a steady stream until integrated into the soup.
The consistency of the end result should be thick and look somewhat like a bowl of whitewash. If you prefer it less thick, add more water to get to the consistency you desire.
Refrigerate the soup for 2-4 hours or overnight before serving. Serve chilled.
Serve the equivalent of about ¾ of a cup of this in bowls and add the grapes or melon balls or put them in bowls for each diner to add as an option.

Photo by Gerry Dawes©2015 / gerrydawes@aol.com / Facebook / Twitter / YouTube / Pinterest. Samsung Galaxy S5 Phone Camera 16MB.
Sunset in a Glass: Adventures of a Food & Wine Road Warrior in Spain (Volumes I, II, III & IV; publication of the first two volumes in Fall 2021.
"Gerry Dawes has lived, analysed argued, savoured, prodded, tested, teased and loved his way through Spain's extraordinary gastronomic heritage for decades. Food as friendship is at the core of this wild, passionate road trip through Spain. This is a masterclass in storytelling - delicious and addictive. I have always loved his writings and deep, deep knowledge of Spain and often hear accolades about him from mutual friends in Spain "--Spain expert Gijs van Hensbergen, author of Guernica: The Biography of a Twentieth-Century Icon, In the Kitchens of Castile and Gaudí: A Biography. (Endorsement quote for Sunset in a Glass: Adventures of a Food & Wine Road Warrior in Spain.)
* * * * *

Constructive comments are welcome and encouraged.
If you enjoy these blog posts, please consider a contribution to help me continue the work of gathering all this great information and these photographs for Gerry Dawes's Insider's Guide to Spanish Food, Wine, Culture and Travel. Contributions of $5 and up will be greatly appreciated. Contributions of $100 or more will be acknowledged on the blog. Please click on

this secure link to Paypal

to make your contribution.
Text and photographs copyright by Gerry Dawes©2021. Using photographs without crediting Gerry Dawes©2021 on Facebook. Publication without my written permission is not authorized.
Shall deeds of Caesar or Napoleon ring
More true than Don Quixote's vapouring?
Hath winged Pegasus more nobly trod
Than Rocinante stumbling up to God?
Poem by Archer M. Huntington inscribed under the Don Quixote on his horse Rocinante bas-relief sculpture by his wife, Anna Vaughn Hyatt Huntington,
in the courtyard of the Hispanic Society of America's incredible museum at 613 W. 155th Street, New York City.
__________________________________________________________________________________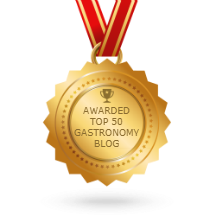 In 2019, again ranked in the Top 50 Gastronomy Blogs and Websites for Gastronomists & Gastronomes in 2019 by Feedspot. (Last Updated Oct 23, 2019)
"
The Best Gastronomy blogs selected from thousands of Food blogs, Culture blogs and Food Science blogs in our index using search and social metrics. We've carefully selected these websites because they are actively working to educate, inspire, and empower their readers with frequent updates and high-quality information."

36. Gerry Dawes's Spain: An Insider's Guide to Spanish Food, Wine, Culture and Travel
About Gerry Dawes
My good friend Gerry Dawes, the unbridled Spanish food and wine enthusiast cum expert whose writing, photography, and countless crisscrossings of the peninsula have done the most to introduce Americans—and especially American food professionals—to my country's culinary life." -- Chef-restaurateur-humanitarian José Andrés, Nobel Peace Prize Nominee and Oscar Presenter 2019
Gerry Dawes is the Producer and Program Host of Gerry Dawes & Friends, a weekly radio progam on
Pawling Public Radio
in Pawling, New York (streaming live and archived at www.pawlingpublicradio.org and at www.beatofthevalley.com.)
Dawes was awarded Spain's prestigious Premio Nacional de Gastronomía (National Gastronomy Award) in 2003. He writes and speaks frequently on Spanish wine and gastronomy and leads gastronomy, wine and cultural tours to Spain. He was a finalist for the 2001 James Beard Foundation's Journalism Award for Best Magazine Writing on Wine, won The Cava Institute's First Prize for Journalism for his article on cava in 2004, was awarded the CineGourLand "Cinéfilos y Gourmets" (Cinephiles & Gourmets) prize in 2009 in Getxo (Vizcaya) and received the 2009 Association of Food Journalists Second Prize for Best Food Feature in a Magazine for his Food Arts article, a retrospective piece about Catalan star chef, Ferran Adrià.
". . .That we were the first to introduce American readers to Ferran Adrià in 1997 and have ever since continued to bring you a blow-by-blow narrative of Spain's riveting ferment is chiefly due to our Spanish correspondent, Gerry "Mr. Spain" Dawes, the messianic wine and food journalist raised in Southern Illinois and possessor of a self-accumulated doctorate in the Spanish table. Gerry once again brings us up to the very minute. . ." - - Michael & Ariane Batterberry, Editor-in-Chief/Publisher and Founding Editor/Publisher, Food Arts, October 2009.
Pilot for a reality television series on wine, gastronomy, culture and travel in Spain.