* * * * *
The Magic of Málaga
Part One of Three
Photos and Text
by Gerry Dawes©2017
Painting of breakfast churros being made in times past at La Malagueña, one of the great breakfast stops for tejeringos, a type of churro made famous in Málaga.
Photo by
Gerry Dawes©2017.
Churros cook Pablo at La Malagueña, one of the old quarter's great breakfast stops, making tejeringos, a type of locally famous in Málaga. Photo by
Gerry Dawes©2017.
Until a trip in early May to attend the Málaga Gastronomy Festival, I was truly ignorant about Málaga and its unique culinary traditions. For more than forty years I have wandered Spain, incessantly crisscrossing the country from top to bottom. I have left few stones unturned. Except for places in the Catalan and Aragonese Pyrenees in northeastern Spain, Cartagena and much of Murcia province, a few outposts along the Portuguese border such as Cuidad Rodrigo, the city of Huelva in Andalucía and the farthest reaches of the northern coast of Galicia, I have pretty much covered the country and have visited many areas dozens of times. It would seem that I would have delved as deeply into the major Andalucian city of Málaga--birthplace of Pablo Picasso and hometown of Antonio Banderas, who lives there now no less--as I have the other jewel cities of the South: Sevilla, Córdoba, Granada and Cádiz. As I was to discover on this trip, I would regret that I had not made more time for Málaga, something I plan to remedy as soon as possible.
I even lived for nearly three years in the province of Málaga 35 kilometers west of the city. My late former wife Diana and I ran The Dawes Gallery for Contemporary Art in Mijas, a picturesque tranquilo ex-patriate artist's village perched high above the Costa del Sol. But we seldom visited the provincial capital of Málaga itself, except on infrequent missions to deal with filing documents with the exasperating Spanish bureaucracy. Even back then in the mid 1970s, traffic seemed to be a problem, so we generally avoided Málaga city.
In retrospect, when we were living in Andalucía, the several pleasure outings we made to Málaga were memorable, including a few luncheons at the legendary seafood restaurant Antonio Martín (now revived as El Merendero de Antonio Martín), where my wife Diana and I had magical times dining at open-air tables right along the seawall. We had a lovely lunch, invited by a sadly long-forgotten benefactor, at the rooftop restaurant of the Hotel Málaga Palacios overlooking the harbor and we spent a night at the Parador de Málaga Gibralfaro on its spectacular perch high above the city.
Málaga harbor from the rooftop terrace restaurant of the Hotel AC Málaga Palacios.
Photo by
Gerry Dawes©2017.
Read the rest of the Magic of
Málaga, Click Here.
A couple of times, we ventured just east of Málaga's harbor for lunch at one of the famous chiringuitos (way casual beach restaurants) on the Pedregalejo fishermen's beach. There were chanquetes (tiny whitebait crisply fried) and sardinas al espeto, half a dozen sardines stuck on cane spike espetos (spits) and grilled over wood fires right on the beach (now the government has decreed that these grill fires cannot be on the beach, instead they are done in sand-and-pebble filled fishermen's dinghies in front of each restaurant). And there were particularly memorable non-Spanish dinners at Le Pic Nic, a restaurant run by a very eccentric middle-aged French couple, she at the stoves in her slip cooking marvelous old-fashioned French country food such as rabbit in a cream sauce while her husband waited the tables and dispensed the vino.
Sardinas and whole fish cooking al espeto, on cane spits, over live wood coals at Las Acacias chiringuito on the Pedregalejo Beach in Málaga. Photo by Gerry Dawes©2017.
Ironically, another memorable night took place on an American aircraft carrier anchored in Málaga harbor. We had somehow met a U. S. Navy Captain pilot, with whom I had hit it off, since I had flown off aircraft carriers on Navy aircraft chasing the Soviet fleet around the Mediterranean as a Russian linguist enlisted man. I invited the Captain to our house in Mijas for paella and he asked if he could bring a friend, an Iranian pilot training with American forces (Iran and the U. S. were still friendly then). We passed an enjoyable afternoon with the two fliers and the Iranian pilot remarked that our paella reminded him of some Persian rice dishes in Iran. The Navy Captain invited us to have dinner with him in the Admiral's stateroom on board the aircraft carrier John F. Kennedy in Málaga harbor.
A Navy launch picked us up on the docks and took us to the carrier and we were given a tour of the flight deck on the carrier, where a mechanic working on an airplane with his boombox blaring American country music was a very surrealistic counterpoint to the backdrop of the illuminated Gibralfaro parador, the ancient Moorish Alcazaba fortress and Málaga harbor. The dinner with half a dozen officers and the Admiral of the Sixth Fleet, a man who would not have surprised me if he opened his jacket and there was nothing but a robot underneath, was equally surreal: "Could you please pass the salt shaker, Fleet Commander, Sir?"
Ten years ago, one of the shore stops for a cruise ship on which I was lecturing about Spanish gastronomy, cheeses and wine docked in Málaga. I went ashore like a tourist and photographed the wonderful Atarazanas Market, which is in a 19th-century iron-frame building fronted by a large 14th-century Moorish gate that once opened on to the harbor--but now due to centuries of development and landfill is a few blocks inside the city.
The wonderful Atarazanas Market, which is in a 19th-century iron-frame building fronted by a large 14th-century Moorish gate. Photo by Gerry Dawes©2006.
Atarazanas Market, which is in a 19th century iron-frame building fronted by a large 14th-century Moorish gate. Photo by
Gerry Dawes©2006.
Olive seller, Mercado de Atarazanas,
Málaga. Photo by
Gerry Dawes©2006.
On my shore prowl, for the first time, I visited the evocative Moorish fortress, the Alcazaba, which begins at the edge of the old quarter near the restored ruins of the Roman theater. And I visited a few bars and restaurants, the most memorable of which were the venerable 19th' Century Málaga wine-dispensing bodega Antigua Casa de Guardia and the emblematic flamenco-and-bullfighter-centric restaurant in the old quarter near Málaga's Cathedral, El Chinitas, which took its name from the 19th-centrury Málaga café cantante-teatro Chinitas (located nearby) made famous by Federico García Lorca and said to be the oldest flamenco café in Spain.
El Chinitas, Málaga. Photo by
Gerry Dawes©2006.
Painting of sailors on shore leave at La Antigua Casa de Guardia, Málaga. Photo by
Gerry Dawes©2006.
La Antigua Casa de Guardia, Málaga. Photo by
Gerry Dawes©2006.
All I saw in my short cruise ship shore excursion was promising. I put Málaga on my list for a re-visit, but my some fifty wine-and-gastronomy travels and personal visits to Spain over the past decade were mostly in northern Spain, along the Mediterranean from Barcelona to Alicante or in the western part of Andalucia. Except for a return visit to Mijas to visit old friends, Málaga did not tempt me enough to make time in my schedule for a follow-up visit.
Málaga Gastronomy Festival 2017 poster.
Photo by Gerry Dawes©2017.
I will not try to claim that Málaga's culinary scene rivals Barcelona, San Sebastián or Madrid, but I found that not only were there some good authentic regional restaurants (augmented by the classic chiringuitos, those legendary beach-front joints specializing in wood-fire grilled sardines and whole fish); funky, wonderful old-time tapas bars; churros and chocolate emporiums; and the great Atarazanas market and its market bars, there were several promising modern cuisine restaurants. And there are more than enough tourist attractions and ambience to warrant a serious visit and even an extended stay to this ancient, yet simultaneously modern, international and vibrant quintessential Mediterranean city.
Human statue of El Cenachero on Calle Larios, one of the most famous streets in Málaga. Cenacheros were men who used to sell boquerones and sardines that they brought up in cenachos (baskets) from the fishing boats in the port, and sell them in the streets (and in villages, sometimes miles away from the sea). Photo by Gerry Dawes©2006.
First off, it helps to separate Málaga city from the storied and somewhat notorious Costa del Sol, famous for its beaches, booze and high-rise vacation package tour hotels and apartments blocking views of the Mediterranean for miles. Much of the Costa del Sol caters to mass tourism, is attractive as a retirees' haven and is home to Marbella, where I also once lived before it became the full-bore, high-rent magnet for well-heeled, but not well-behaved, nuevo Euro-ricos, Spanish celebrities, aristocrats, wealthy yacht owners, corrupt politicians (a redundancy these days) and those attracted to that scene which might be likened to a mini-Las Vegas, but by the sea and without the surfeit of casinos.
Most people who fly into Málaga airport, located between Málaga and Torremolinos, upon landing take an immediate right turn and head west for Torremolinos, Fuengirola, Marbella, Estepona and on down to Sotogrande, the famous golf resort in neighboring Cádiz province. And, though some of them may make a perfunctory day trip to Málaga for a visit to the Picasso Museum (Picasso was born in Málaga in 1881 and lived there for the first ten years of his life), but most visitors to the Costa del Sol remain scattered throughout the beaches town along the coast.
Although there are plenty of foreign visitors, many of them off cruise ships for the day, Málaga has managed to maintain its very singular Andalucian character. This ancient city that the Phoenicians knew as Malaka now deserves to break into the ranks of the not-to-be missed Andalucian classics--Sevilla, Granada and Córdoba--and become the fourth must-see city on the Andalucian circuit. And, like, those other three cities, the restaurants, tapas bars and shopping in Málaga are intertwined with central city sites of real tourist merit such as the restored Roman theater, the 8th-century Alcazaba fortress, the 14th-century Moorish doorway to the wonderful Ataranzanas market, the 16th-18th century Italian Renaissance-style Cathedral (called La Manquita, the one-armed lady, because the builders ran out of money to finish the second bell tower meant to complement the existing one) and the life-size bronze statue of the great Danish fairy tale author, Hans Christian Andersen.
Málaga harbor, lighthouse and Moorish Alcazaba fortress (middleground). Photo by Gerry Dawes©2006.
Commissioned in 2004 for the 200th anniversary of the author's birth by the Danish Royal Family, the
Statue of Hans Christian Andersen is a work in bronze by sculptor José María Córdoba and is located in the Plaza de la Marina de Málaga. Andersen visited
Málaga in October of 1862 and loved the city. You can sit beside him on the bench and peek into his bag, which contains The Ugly Duckling.
Photo by
Gerry Dawes©2006.
Augmenting the city's historical treasures, Málaga, in just a little more than a decade has become a serious art museum attraction with the Picasso Museum (opened in 2003), the Casa Natal de Picasso (the artist's restored home of his youth), Museo Carmen Thyssen (a collection of more than 200 paintings from the collection of the Spanish baroness who owns many of the paintings at the Museo Thyssen-Bornemisza in Madrid), el Centro de Arte Contemporáneo, Centre Pompidou Málaga (the only branch outside of France), the Colección del Museo Ruso (believe it or not, an outpost of the State Russian Museum collection in St. Petersburg), and a burgeoning artsy neighborhood called SOHO next to the port contribute to the city's now considerable cultural attractions.
Sign on a bus stop in Málaga, advertising the then relatively new Picasso Museum, which opened 2003 and has been a major draw for tourists ever since. Photo by Gerry Dawes©2006.
Spaniards have a saying, mejor tarde que nunca, better late than never. Late my re-discovery of Málaga may be, but I plan to make up for lost time and put this magical city high on my agenda for future visits.
Spanish draft cerveza and habitas con jamón (baby faba beans with serrano ham) at Restaurante El Chinitas in Málaga. Photo by Gerry Dawes©2006.
End of Part One
___________________________________________________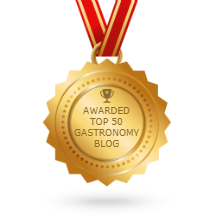 About Gerry Dawes
G
erry Dawes was awarded Spain's prestigious Premio Nacional de Gastronomía (National Gastronomy Award) in 2003. He writes and speaks frequently on Spanish wine and gastronomy and leads gastronomy, wine and cultural tours to Spain. He was a finalist for the 2001 James Beard Foundation's Journalism Award for Best Magazine Writing on Wine, won The Cava Institute's First Prize for Journalism for his article on cava in 2004, was awarded the CineGourLand "Cinéfilos y Gourmets" (Cinephiles & Gourmets) prize in 2009 in Getxo (Vizcaya) and received the 2009 Association of Food Journalists Second Prize for Best Food Feature in a Magazine for his Food Arts article, a retrospective piece about Catalan star chef, Ferran Adrià.
In December, 2009, Dawes was awarded the Food Arts Silver Spoon Award in a profile written by José Andrés.
". . .That we were the first to introduce American readers to Ferran Adrià in 1997 and have ever since continued to bring you a blow-by-blow narrative of Spain's riveting ferment is chiefly due to our Spanish correspondent, Gerry "Mr. Spain" Dawes, the messianic wine and food journalist raised in Southern Illinois and possessor of a self-accumulated doctorate in the Spanish table. Gerry once again brings us up to the very minute. . ." - - Michael & Ariane Batterberry, Editor-in-Chief/Publisher and Founding Editor/Publisher, Food Arts, October 2009.
Pilot for a reality television series on wine, gastronomy, culture and travel in Spain.