* * * * *
I figure that this trip, for The Madrid Fusión Gastronomic Conference,
may be #115 (round trips from the U. S.) and I am glad to be away from DumbFlandia!
Sunday, Jan. 27 Arrive Madrid
The flight from NYC-JFK to Madrid arrived a little early.

I got a promotional deal on my Iberia Plus mileage, so I was able to upgrade to Business Class quite cheaply.
There was a taxi strike in Madrid, so

I caught the Airport Express bus for 5 Euros to La Plaza de Cibeles, and with some apprehension, I took the #1 city bus at Cibeles to the stop just by the Argüelles Metro Station, where my hotel, the Madrid Hotel Courtyard by Marriott, Calle Princesa 40, was located. Through family connections, I had procured a healthy discount. The Marriott was right there inside the big El Corte Ingles shopping center and not many paces from that

Argüelles Metro entrance, which would serve me well over the next several days

.
I got to the hotel around noon and was given a room with no waiting time, got in to Room 1005 to find a very large reproduction of Goya's famous Carlos IV and Family painting covering the entire back wall behind the bed.

I almost asked to have my room changed, because I was uncomfortable under the hulking Goya portrait of the despicable corrupt royal family who sold Spain down the river to Napoleon. Especially, since it reminded me of our current situation in America. But, I was tired from the overnight flight, so I

unpacked and took a nap, creepy as it was to be sleeping beneath that painting.
Because of the taxi strike,
I decided not to go at 6 p.m. to the Hotel Urban for a reception for women chefs, to which I had been invited by my long-time friend, Alicante Chef (Monastrell, Taberna del Gourmet) María José San Román.
Francisco de Goya y Lucientes, 1800. Oil on canvas
This portrait of the family of King Carlos IV (1748-1819) was painted in Aranjuez and Madrid in the spring and summer of 1800, shortly after Goya was named First Chamber Painter. It clearly show´s the artist´s mastery at individualizing characters. The forerunners to this complex composition are Louis-Michel van Loo´s Portrait of Felipe V and his Family (

P02283

) and Velázquez´s Las Meninas (

P01174

), both of which are in the Prado Museum Collection. The scene is presided over by Queen María Luisa de Parma (1751-1818) and King Carlos IV, at the center. Beside them are their children, the infante Francisco de Paula (1794-1865) and the infanta María Isabel (1789-1848). On the left are the Prince of Asturias and future Fernando VII (1784-1833), wearing blue; the infante Carlos María de Isidro (1788-1855), who was second in succession to the throne; the infanta María Josefa (1744-1801), who was the King´s sister; and an unidentified young woman. On the right are the infante Antonio Pascual (1755-1817), the King´s brother; a rendering in profile of Carlota Joaquina (1775-1830), Queen of Portugal and eldest daughter of the Monarchs and the Prince and Princess of Parma: infanta María Luisa (1782-1824) holding her son Carlos Luis (1799-1883); and her husband, Luis de Bourbon, the future King of Etruria. Of special interest here is the careful rendering of the clothing, which was the latest fashion at that time, and of the jewels, which may have been created by the Court Jeweler, Chopinot; as well as the honors, such as the sashs of the Order of Carlos III and of the recently-created Order of María Luisa, the Golden Fleece, and the crosses of the Immaculate Conception and Saint Genaro. The harmonious and clear yet complex composition reveals the artist´s mastery. The subtle definition of characters bears witness to the painter´s ability to analyze human beings. This work is listed in Madrid´s Royal Palace in 1814 and in the Prado Museum collection in 1824.
___________________________________________________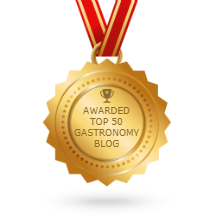 About Gerry Dawes
Gerry Dawes is the Producer and Program Host of Gerry Dawes & Friends, a weekly radio progam on
WPWL 103.7 FM Pawling Public Radio
in Pawling, New York.
Dawes was awarded Spain's prestigious Premio Nacional de Gastronomía (National Gastronomy Award) in 2003. He writes and speaks frequently on Spanish wine and gastronomy and leads gastronomy, wine and cultural tours to Spain. He was a finalist for the 2001 James Beard Foundation's Journalism Award for Best Magazine Writing on Wine, won The Cava Institute's First Prize for Journalism for his article on cava in 2004, was awarded the CineGourLand "Cinéfilos y Gourmets" (Cinephiles & Gourmets) prize in 2009 in Getxo (Vizcaya) and received the 2009 Association of Food Journalists Second Prize for Best Food Feature in a Magazine for his Food Arts article, a retrospective piece about Catalan star chef, Ferran Adrià.
In December, 2009, Dawes was awarded the Food Arts Silver Spoon Award in a profile written by José Andrés.
". . .That we were the first to introduce American readers to Ferran Adrià in 1997 and have ever since continued to bring you a blow-by-blow narrative of Spain's riveting ferment is chiefly due to our Spanish correspondent, Gerry "Mr. Spain" Dawes, the messianic wine and food journalist raised in Southern Illinois and possessor of a self-accumulated doctorate in the Spanish table. Gerry once again brings us up to the very minute. . ." - - Michael & Ariane Batterberry, Editor-in-Chief/Publisher and Founding Editor/Publisher, Food Arts, October 2009.
Pilot for a reality television series on wine, gastronomy, culture and travel in Spain.